 After being exceptionally good with my new program for the last few weeks, the time came to embark on my first skin treatments at the Clear Skin Clinic.
After speaking to my Clinical Nurse Specialist, Marsha, she recommended that I begin with the following treatments. These were all done in one appointment.
Azelaic Skin Peel: To exfoliate, brighten and refresh the skin
Vitamin Infusion Facial: To feed the lower layers of the skin, hydrate and repair the skin
LED Light Therapy: To kill acne bacteria, stimulate collagen and heal the skin
But what does that all mean? Let me break it down for you.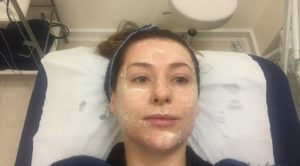 A peel is a form of chemical exfoliation and a great way to eat up dead skin, dirt and oil that is deep in the pores.
A lot od people are nervous about having a skin peel because they think they will end up raw red for a week with loads of skin hanging off, but that is not the case. A light peel can give beautiful results and only give one - two house of redness with little to no peeling.
What I noticed about the Azelaic Pell (in particular) is that it exfoliates and peels the skin only while it is on your skin so you will have no peeling at all in the days following the treatment.
It is not painful but it can feel warm and tingly and gives a rost red colour to the skin for a few hours. It is an excellent treatment for acne, pigmentation and to brighten and smooth the skin.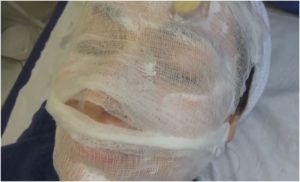 This is not like a typical facial that is just about feeling pampered or rubbing creams on the surface of the skin. This is a medical grace facial that uses a microcurrent to infuse high doses of actice vitamins deep down into the skin. You can't feel the miscrocurrent, though, so it is a very relaxing and results-driven treatment.
Advertised
It feeds the deeper layers of the skin where skin activity happens such as repair and hydration. Because it gets down to the deeper layers, it can help to improve skin texture, elasticity, firmness and hydration. It also gives a beautiful dewy glow.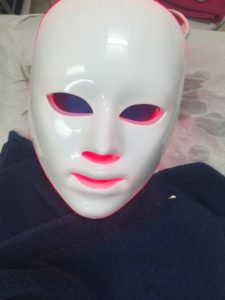 (Yes - that's me!)
LED Light Therapy has been used by NASA and professional athletes for decades for quick healing of injuries, It has also become very popular in the cosmetic arena as it is one of the most effective and non-invasive ways to repair and rejuvenate the skin.
LED Light Therapy can kill acne bacteria in the skin, heal the skin and stimulate collagen and elastin.
With this set of treatments, I have definitely noticed my skin feel a lot smoother. There is more tightness and an overall glow. The following day there was a small amount of redness and tightness, but I honestly thought I would look like Samantha from Sex in the City afterwards and would have to hide for the duration of the week. This is a common misconception with facial peels (I am told).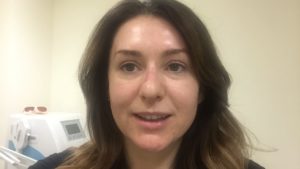 As you can see there is minor redness after the three treatments and absolutely no pain what so ever. It's definitely something worth thinking about if you just want to brighten up your skin after the summer months and get your glow back coming into winter.
Here is a video to give you a more up close and personal feeling on the whole experience.
If you have suffered with your skin in the past and have been looking for something to remove the scars, keep watching! Next week I will be talking about RF Resurfacing, which is not for the faint-hearted.
Advertised
Also, you will be most happy to know that the lovely people over at The ClearSkin Clinic have offered a special discount to all you loyal and lovely Beaut readers.
DISCOUNT CODE: BEAUT.IE  Mention Beaut.ie when booking and get 50% off your first treatment at ClearSkin. Must book before 30th November 2016. T&C and exclusions apply.