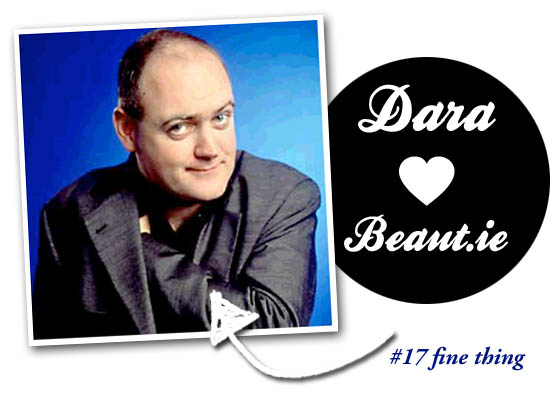 "Thank you Vicar St. and goodnight! Phew. I have a show. All manner of tweaks to be done, but a lovely first night nonetheless" tweeted @daraobrian on January 4th, the first night of his Irish tour, and after that, the tweets to the @beautie Twitter account came thick and fast.
"Well girls @daraobriain is very proud of his position in the top Irish male countdown," tweeted Lee from Mwah.ie who'd been along to see him live, as had @Makeupfordolls who said "at Dara O'Briain - Beaut.ie got a mention as part of his show!," explaining, "He said that he was #17 in Sexiest Man in Ireland "according to Beaut.ie"... how cool!"
Yay! We're feckin' delighted! Thank you Mr Kind (and fine) sir.
Advertised
Dara's standup show, Craic Dealer - Live 2012 is on-going now - check dates and locations on his site.
And of course, we know why Dara's so keen to get the mention in. He's worked out that as this is a whole new year, we'll be rolling out 50 Fine Things 2012 very shortly, and he wants to keep his position in the rankings. What could be a smarter bit of revision for mna na hEireann as he tours our fine isle than working it into his standup routine? Clever man, eh? We salute you, O'Briain! Brains and brawn!
Will this guarantee him a position in the coveted top ten in twenty twelve? Only time will tell ...