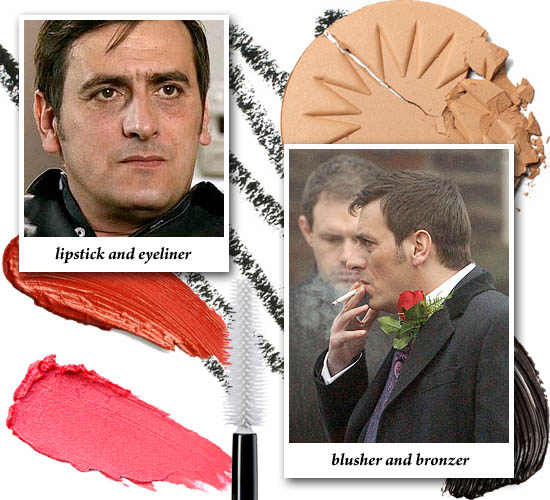 The other night, watching another Peter Barlow and Carla post coital scene, I was hard pressed to tell which of them was wearing more make up.
Peter's lipstick/heavy eyeliner/blusher habit has been going on for quite some time now.  It seems to me that when he's not having affairs with Carla/Cruella and fleecing people in the bookies,  Peter Barlow must like nothing better then checking out make up tutorials on YouTube and learning about the latest application tips 'n' trends.
Putting in a phone call to his agent I was delighted when he readily agreed to have a chat.  He's a regular on Beaut.ie apparently, and likes nothing better than gassing about lipstick.
Aisling: Peter, you wear a lot of makeup on Corrie, and your use of eyeliner is particularly stunning.
Peter: Thanks! I use a kohl pencil on my lower lash line - I find that to be the most effective for me.  Just apply it directly and then smudge it out a bit so it doesn't look too "hard," but instead is lifelike and natural.
A: I er, see.  What brand do you use?
Advertised
P: Mainly Rimmel.  But I have been using some of Carla's Chanel lately.  Have I been a bit too heavy handed?
A: (lying) No!  Of course not.  Now lipstick - you favour a reddish shade?
P: Yes, I prefer a matte finish, nothing glossy and I like to keep the look classic.  Kohl on the eyes, a good red lipstick - I think you're ready to go anywhere with that combination.  I actually have quite a high-end lipstick habit - I prefer Mac.  I like to keep up with trends.
A: And lipliner?  I'm sensing you like to line your lips?
P: Well spotted - I do like that definition.  It prevents the red from "bleeding" into my Club Orange.  I pick one up in the chemists in Rosamund Street - Barry M or Rimmel, whatever's handy.
A: Thanks Peter! And can you tell us anything about your storyline with Carla?
Advertised
P: Oh it'll end in tears and the necking of lots of booze.  I'll be sure to wear my waterproof mascara that day!
I hung up, happy with our interview.  But then I kicked myself - forgot to ask him about all that blusher and bronzer he wears.  Damn!