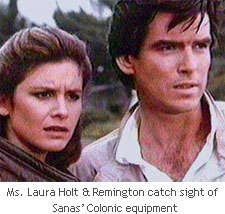 As we've mentioned, myself, Aphrodite and Remington took ourselves off to the fab Sanas sanctuary last week. I had a Dermalogica Face Mapping facial, Aphrodite had an Elemis Tri-Enzyme facial, but what Remington had done was a mystery - up till now.
As we know, Remington likes nothing more than tackling a particularly tricky problem, which is why we knew he was the man to get to the bottom (ba-doom tsschhh) of what this whole colonic business is about. He bravely went forth, dickie bow and coiffed barnet only slightly askew, and proceeded with a full and frank investigation.
The staff at Sanas are nothing if not thorough and extremely professional. To start Remington's detox process off, they recommended that he have an Ionic Foot Detox first as this would help with the whole effectiveness of the treatment. But that's enough from me - take it away, Remington!
"When Aphrodite and Kirstie asked me if I would join them on a trip to 'Sanas' to try out some of the treatments available there, I practically leapt out of my Ferrari.
'Oh that sounds great, what will I be having?', I asked
'You'll be having the colonic irrigation'
'ooh, eh, right'
Advertised
Now I'm not normally one to shy away from a new experience but I have to admit, I was a little hesitant. After all, apart from Princess Diana, I couldn't think of another person who indulged in colonics. In the end (5 minutes later) curiosity got the better of me and I agreed. Well somebody has to do these things.
Actually the colonic was only one part of the treatment. The first part was the much less intimidating ionic foot detox. This involved sitting in a candle lit room, with soothing music playing in the background and having my feet submerged in basin of warm water for 30 minutes. This was great; I sat there and made my way through a few magazines whilst the impurities in my body came out through the pores in my feet. Ellie, the therapist on duty that day, explained to me how the process worked. A small electrical current and a little salt are added to the water and through Osmosis (I think) gunk is drawn out from your body. When the 30 minutes were up there was lots of horrible stuff floating in what was once nice clean water. Betty, the owner of Sanas, had come in at this stage and was quite rightly able to tell me what sort of diet I had. (fresh produce, country walks, organic free trade Pringles etc).
With the first part over with all that remained was to come back on Friday for the colonic!"
Stay tuned folks - the 2nd part of Remington's adventure will be posted shortly! If you're interested in having an Ionic Foot Detox, then you can read some more information on the Sanas website, or contact Sanas for an appointment on 01 2960368.