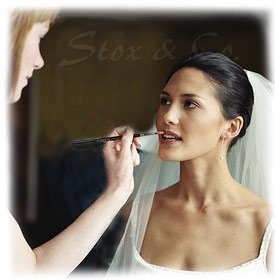 Boylan and Balfe, our favourite makeup artists at Beaut.ie have been busy answering all your bridal makeup questions. So our advice here at Beaut.ie is: take their advice. These guys know their stuff and will do their utmost to help you out and prevent (dare I say it) the onset of any makeup related Bridezilla tendencies. I was one: believe me, it's not nice. We would absolutely recommend that you take one of their courses before your big day where they will show you personally how to achieve a perfect bridal makeup.
Will highlighters look too shiny?
They will if they are too white or oily. Our favourite ones for using at weddings are the Stila All Over Shimmer Creams in shade 1. It is the colour of skin and imparts a gorgeous sheen to the cheekbones. Remember to not bring it too far out to the temples or down the cheeks. You want subtle shimmer not robot!
Best under eye concealer?
The two concealers we mainly use under the eyes are the Softening Concealer by Lancome if the shadows are not too dark or the Perfecting concealer by Stila. Both have a lovely soft texture so don't sit in lines .. let's face it, we all have them! Remember to get a shade lighter than your foundation, that will serve to hide any blue tones under the eye.
Which waterproof mascara and how heavy should the makeup be?
We find the Lancome waterproof mascaras to be the best. They don't clump and don't dry out the lashes like some can.
Your makeup on your wedding day does not necessarily have to be any heavier than you would normally wear. You don't want to look caked in makeup and have to be conscious of touching it up all the time. Also remember that you will be spending the day with your guests face to face, so you don't want to look overly made up and un-kissable!
The most important thing is to use products that work with your skin tone and to use them correctly. If you are doing your own makeup it is worthwhile doing a personal makeup course to learn techniques or of course hiring a makeup artist on the day will take away all the stress. If you are hiring a makeup artist, always do a trial before hand to makeup sure you are both clear as to what look works for you.
Advertised
I always tell people that you should be looking for a bridal look that is natural and enhancing. You want to look like you, only better!
Long lasting but not drying lipstick?
Don't go for the lip products that make ludicrous claims of longevity. They will certainly dry your lips as well as wearing off at different paces therefore leaving your lips looking mottled. Use a lip liner all over the lips and then apply lipstick over it. It will wear off at intervals throughout the day, but have your bridesmaids carry a touch up kit for you and warn you when you need it.
Products to achieve the bridal glow and best fake tan?
I find that the Convertible colours by Stila are the best for a lovely soft rosy glow on the cheeks. They are cream blushers and they give the effect of the colour coming from within rather than sitting on top of the skin. The best colour is Peony and remember to go lightly..a little goes a long way, there's a fine line between that soft, pretty glow and Aunt Sally!
I think the best tan at the moment for a natural look is the St Tropez Everyday. Use it for three days leading up the wedding and you'll get a streak free yet natural glow.
How to soften the look of black eyeliner?
Try using an eyeshadow wet with a small eye-liner brush to define the eyes. Go for a dark brown with some shimmer. This will enhance the eye colour and not look as harsh as black.
Best way to enhance blue eyes?
Advertised
Use peachy brown eye shadow in the socket or all over the lid. This contrast really makes blue eyes pop. Emerald greens or purples also look great but may be a bit much for a bride.