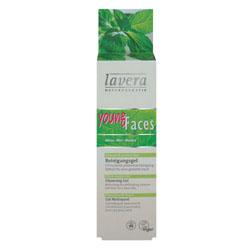 Lyndsay, a student on a tight budget, has asked us to source her some cruelty free skincare solutions. She doesn't have much to spend, but needs products to sort out her particular skin issues - she suffers from congestion and some spots. In general though she reckons her skin is normal - dry. What can we suggest?
I'd suggest using a face wash morning and night which will help keep breakouts down to a minimum and will help to ease congestion by removing excess sebum from the skin on a daily basis.
We'd usually recommend trusty Vichy Normaderm but as their parent company is L'Oreal and you've dismissed the Body Shop on those grounds in your mail to us, I doubt you'd be happy using it. So, lets go organic. You could try Lavera Young Faces Cleansing Gel for oily & impure skin (about €9). I've tried this myself and it's great. I don't have oily skin either (nor am I particularly young, waah), but I do suffer from breakouts and this does a Normaderm type job that leaves skin smooth with no tightness, and it also comes with no animal testing concerns. You can buy online from evenone.ie or also get it in health food stores.
Advertised
More of a treat for you, (if you can convince someone else to buy it as a present so much the better!), would be some goodies from MAC's new skincare range. I'm using their Cremewash at the moment and it's really nice - a no nonsense product that does what it says it does. I've no price info on it but I'd estimate in and around the €20+ mark might be about right.