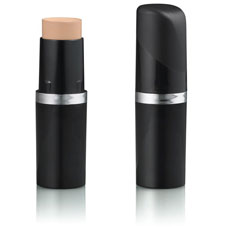 Edel told me that she's going on holidays next week and gets a colour really easily. Her usual makeup is Max Factor Pan stick (shade 13), "but I know within the first few days that will be way too light in colour to wear when I go out at night", she wailed.
What to do? Stick with her regular makeup and apply bronzer over it as her colour develops? Buy something new? What about powder? How would that work with a tan, panstick and bronzer?
Edel - I have to be honest with you. Ditch the panstick! Unless your skin is in seriously bad nick I can't honestly imagine you need it. I completely understand the need for coverage and am not really a big fan of the minimum coverage provided by tinted moisturisers myself, but the thick coverage a pan stick provides just doesn't really look like real skin. There's a place for panstick, and that place is not on holidays in a hot country!
What's so much better is a medium coverage foundation and then concealer on the areas where it's really needed - around the eyes and nose and over any blemishes or spots you want to hide. You'll look flawless and fresh.

I know it's so hard to change from a product you've trusted for years, but you know what they say - a change is as good as a rest. You also tell me you have shiny skin round your t-zone too. Well bingo, most pansticks are oil based, so that's only going to exaccerbate the problem.
My advice is firstly, take yourself off to a counter or a big Boots, and buy a new foundation. If you're keen to stay with Max Factor then try their Lasting Performance product, which has good coverage, lasts all day and isn't oil based. L'Oreal do good, decently priced products too, but I think base is one of the makeup products you do need to spend cash on to get it right. So think about Lancome, Chanel or MAC, all of whom do great foundations with good coverage. Smashbox have just launched their High Defintion Healthy Skin foundation which is really nice also.
Advertised
For holidays, sure you can bronze it up over your normal base with bronzing powder (Guerlain are my luxe pick, and Rimmel Sun Shimmer is a good budget alternative) but if you do go down the new foundation route, you could buy some of Maybelline's clever Dream Sun Glow, a bronzing booster for liquid makeup. Mix it in with your regular foundation when you're on holidays and bingo - you can always match your skintone.
Try a loose translucent powder and apply it lightly with a big brush instead of one with a lot of colour if you're really keen to use powder. And I'd recommend you invest in some blotting papers (the Body Shop do good ones) and carry them about with you. When you look a bit shiny, blot. That way you keep shine down all evening without adding product to your skin.
Have a good holiday!
Get Beaut.ie Delivered
Stay updated with Beaut.ie newsletters full of the latest happenings at Beaut.ie as well as great offers and things we think you might find interesting .