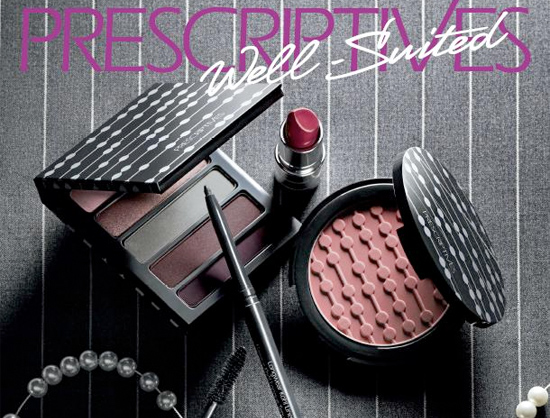 We took a week's-worth of looks at office-appropriate beauty buys the week before last and looky here, it's almost like Prescriptives were reading our minds - their Autumn Winter collection, Well Suited, is even pin striped and pearl-decorated. Office friendly it very definitely is.
I've had my chipped nails on the Well Suited palette for a month or so now and it's available in two colour-ways, cool and warm. Usually I'd go for cool (above); but I liked warm better, so opted for it for a change. It's got a nice complement of browns and taupes, as well as a deep teal. I'm using it a lot, and really pleased with it, barring the teal shade, which isn't as pigmented as I'd like minus primer, but the other colours make up for it and it's currently being favoured over Stonewashed Nudes, even.
Each palette costs €50, and they're limited, so you know the drill: if you want 'em, get 'em quick. More info on the collection is available after the cut - get clickin'!
Advertised
Over to your right you can see the limited edition Well Suited Finishing Powder, €38, which isn't meant to be used as a blush, but rather you'd sweep this on in place of powder for a bit of subtle luminosity. Great for faking a healthy glow, especially after a night on the Whines, eh?
The collection also includes Longwear Kohl Liner, €23, in four shades (black, slate, brown, blue) which will join the permanent collection, as well as some limited edition Colourscope Lipcolour shades for €21.50 a pop.  Posh Nude, Posh Pink, Posh Honey and Posh Ginger are all on offer.
The entire collection goes on counter from August 15th at Prescriptives stockists, and don't forget that their new All Skins Mineral makeup goes live on August 1st, too.
Get Beaut.ie Delivered
Stay updated with Beaut.ie newsletters full of the latest happenings at Beaut.ie as well as great offers and things we think you might find interesting .