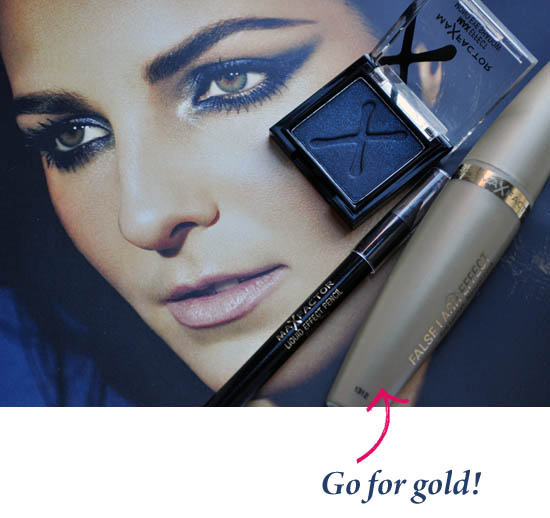 The gen with this is that Max Factor has golden girl'd up False Lash Effect mascara, €14.99, which usually comes in a black tube, and signed up swimmer Kerri-Anne Payne to front it in Olympic-themed salvo ahead of London 2012. It's won lots of awards; so has she - with more to come is the hope - but actually I found myself far more interested in the makeup she was wearing in the shot above (snapped by Rankin, apparently), than the gen on the mascara. Lets find out what it is, shall we?
 The shadow is Max Effect Mono eye shadow in Magic Nights - a dupe for Nars' Night Flight if ever I did see one - and while you can't see it in the pic, it has lots of blue sparkle and is verrry pretty
 The liner is the fairly new-to-the-brand Liquid Effect Pencil. These come in a few shades and they're pretty decent. Not as emollient as Avon's SuperShock, for example, but far less hard than a regular kohl, these are  easy to work with, draw nice lines, and set so they last.
Advertised
Love it! Have you tried either product?
Get Beaut.ie Delivered
Stay updated with Beaut.ie newsletters full of the latest happenings at Beaut.ie as well as great offers and things we think you might find interesting .