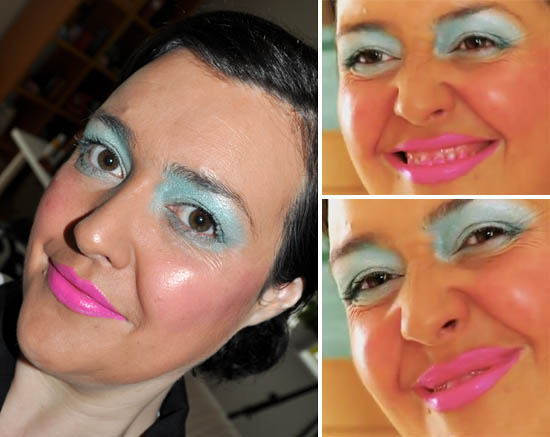 When we were making our magnum opus, Beaut.ie She Wrote, with an acclaimed Bloscar-winning director a couple of weeks ago, we knew we wanted to have a makeup lady in it. So we searched high and low through the lanes and byways of Ireland, both urban and rural for one such gem.
It wasn't me or anything. Oh god no.
Ahem.
The right lady had to have an air of superiority in the face of an NW15 complexion. She had to be confident that her 67 shades too deep shiny base matched with shimmering aqua-toned eye shadow to the brow bone and floruo lipstick were choices of style, sophistication and panache.  The sort of thing one could carry off and feel chic (to be pronounced chick) and classy at all times.
And we know what you all want the insider details on how she achieved her elegant, yet timeless look. Well, you'll be pleased to know that in another of our regular exclusives, we held her down by her bronzed arms and insisted that she dish on the techniques and products required to create this flawless finish.
Take it away, Testy Broader.
STEP ONE
Advertised
Pour super-brown foundation into palm of hand and liberally apply to centre of face, haphazardly blending out towards ears. Under NO circumstances should foundation match your skintone or be blended down past the chin. A sharply defined tide line is an essential for this look and you must have a startlingly white neck, such as one Casper the Friendly Ghost would be proud to boast.
Out of foundation? Absolutely no problem. Simply substitute Sally Hansen leg spray, Bourjois Delice de Soleil spray (which is what Testy used here) or some Bisto. Powder is a no no as shine and glow is what's required.
STEP TWO
Eyes. Take a bright, out of fashion shade such as turquoise or baby blue in a high shine, shimmery finish. Pearlescent or iridescent textures would absolutely be the icing on the cake. Apply to your brush. Now apply some more. Fallout onto cheeks would be good. In fact it would be desirable.
Now, forget everything you have ever been told about careful shadow placement; just put it everywhere. Lash it on, right up to the brows. Put some below, bang it in by the nose. Not quite impactful enough? WELL THEN ADD SOME MORE.
For this look, Testy made excellent use of one of the new Body Shop Shimmer Cubes in Green Light.
STEP THREE
Advertised
Lips. Red lips and green eyes would obviously be a beautiful combination but Testy B felt that a really really really bright pink would be perfect. Getting it on her teeth was clearly the ultimate aim, and she was delighted that her over-zealous application achieved that. Mac's Candy Yum Yum (part of the Quite Cute collection) did the job here and application was a cinch: simply don't look in the mirror, aim the bullet at lips and hope for the best.
Now, suitably adorned, go forth and advise mna na hEireann on the products, trends and makeup they should be buying. Clearly, your makeup skills will indicate to them that you are able and competent to do so.