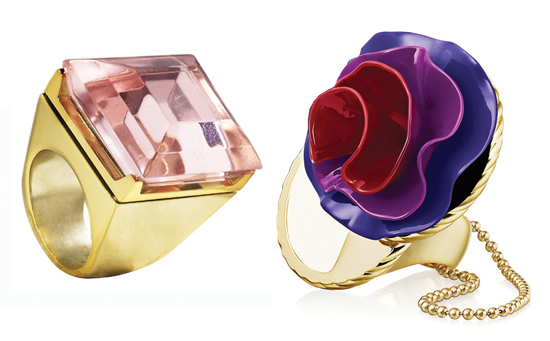 Ah I do love a birra bling. And here, if that birra bling has a birra someting beaurriful inside then hurrah! So that's why I like fragrance rings: I have Marc Jacobs' Daisy ring from a couple of years ago and still wear it regularly, even though in truth the scent doesn't light my fire.
This Christmas, his newest fragrance, Lola, is available as solid fragrance inside a ring (€39 from Brown Thomas) and is definitely piquing my interest. Even though I doubt I'll like the scent inside (billed as Daisy's grown-up sis),  I love the OTT flowers, so it's a thumbs up for that, anyway. If it just doesn't float your boat then Michael Kors' Very Hollywood cocktail ring might. At €60, it's not cheap, but it is really, really glam and pretty, and of course it's got the fragrance hidden below the gem.
Advertised
What'cha reckon? Would you get, or forget?