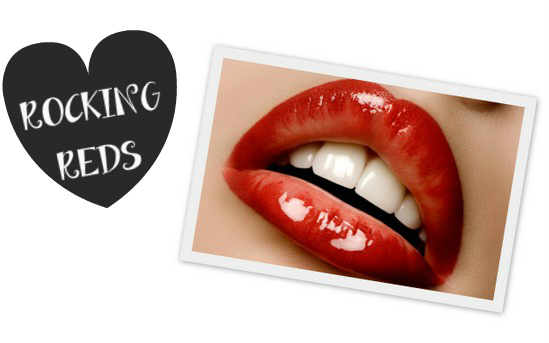 Red lips are a massive trend for next season and I'm really happy about that because it means loads of lovely red lipsticks are headed our way. I can't wait to check out the new Chanel line and those gorgeous YSL mattes are also calling my name. But I've also had a rummage through my stash and rediscovered some absolute gems that are already in my collection. It's been very tricky but here are my top 10, ranging from budget to high end, nice to mass market and everything in between.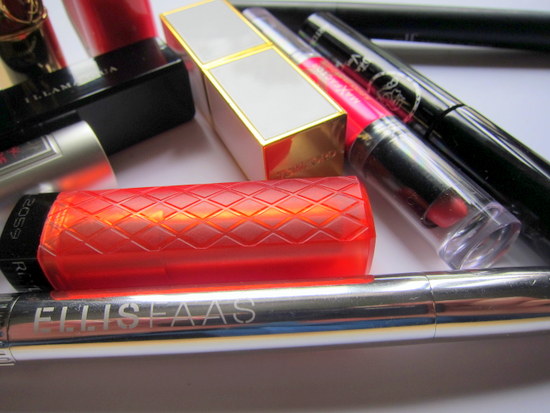 YSL Rouge Volupte Perle in Mysterious Red
YSL's Rouge Volupte range is a firm favourite here at Beaut.ie. The Perles are slightly lighter in formulation than the originals but have the same soft, glide-on texture. This one, Mysterious Red, is a warm, deep brick red that is gorgeously glossy and lovely to wear. It's €31 and you can see more here.
Lush Liquid Lipstick in Power
The liquid lipsticks from Lush's Emotional Brilliance line are seriously impressive. They're creamy, pigment packed, with good staying power and don't dry out the lips. Power is a vivid orangey tomato red; shimmer provides depth and vibrance without looking OTT.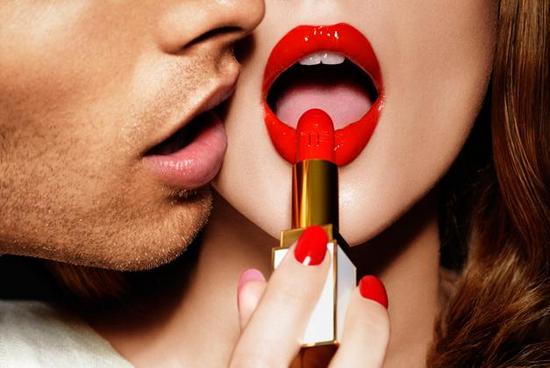 Tom Ford Private Blend Lip Colour in Cherry Lush
This is the jewel in the crown of my lipstick collection. Sleekly packaged (though mine is the old colour - they're now brown instead of white and yes, it bothers me!) and reassuringly weighty, everything about this lipstick is sheer class. The shade itself, said to be Ford's favourite, is a creamy strawberry red that is super pigmented with good lasting power. It's (gulp) €45.
Dita Von Teese for ARTDECO Lip Laquer in Chinois
Opaque colour, velvety texture and high gloss finish, this is everything you'd expect from the queen of the red lip. The lip laquer,  €16.70, is a deep vampy red and it's divine - just like the rest of the lip products in this collection. It's well worth checking out.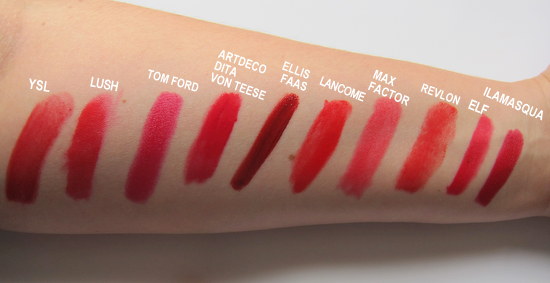 Advertised
Ellis Faas Creamy Lips in Ellis Red
Every piece created by Dutch make up artist Ellis Faas is based on a colour found naturally in the human body and as such, the thinking goes, should be universally flattering. This one, Ellis Red, is deep, dark and based on the colour of blood - but don't let that put you off. Read more about this gorgeous niche brand here.
Lancôme Rouge in Love lipstick in Sequins d'Amour
I dubbed this one of the prettiest, most unique shades of red I've come across and my opinion hasn't changed. Bright and beautiful, this is also featherlight, glossy and packed full of emollients so it feels lovely on the lips. Read the full review here.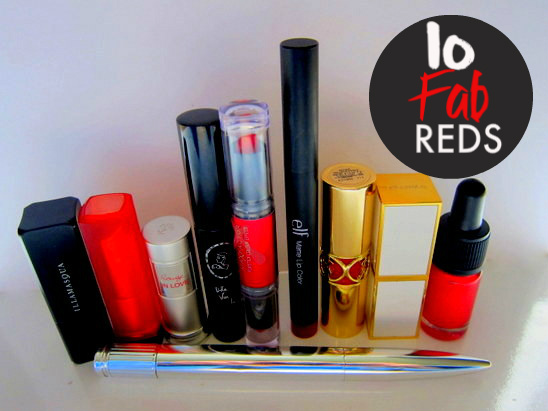 Max Factor Flipstick in Salsa Red
With an opaque satin at one end and a more shimmery shade at the other, these are intended to let you mix and match and create your unique shade. Mostly I don't bother - I like the pinkish red side of Salsa Red fine just the way it is. It feels lovely and creamy and it's €11.99.
Revlon Lip Butter in Candy Apple
This has totally stolen my heart. My favourite of the Lip Butters, this is a pretty coral red that because of the soft, sheer finish is perfect for everyday. It's the only red I'm 100% comfortable wearing to the office. These are €11.25 in Boots but just €7 odd in Superdrug, so I know where I'll be stocking up.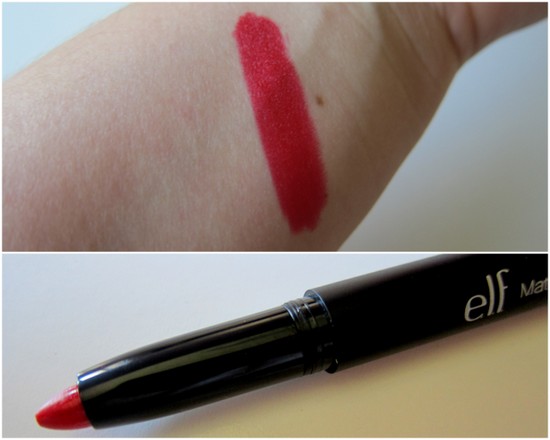 ELF Studio Matte Lip Colour in Rich Red
This is a gem - a creamy lip pencil in a gorgeous blue red shade that has just a hint of sheen, doesn't dry out the lips and has good longevity too. It's easy to apply and it was an absolute bargain at just €4. I want one in every colour.
Ilamasqua Lipstick in Box
It was a sad day when Ilamasqua pulled out of BT2 but my Box lipstick reminds me of happier times. A deep matte scarlet, this is intensely pigmented and packs a serious colour punch. The price I paid escapes me but it's £15.50 from the Ilamasqua site.
Advertised
Those are my faves - now what about yours? To the comments!