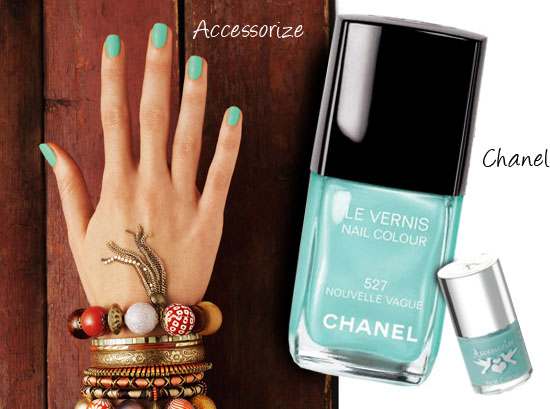 No, sadly I haven't come across a spot-on doppelgänger for Particuliere, but I think I've found one for Nouvelle Vague, which is the turquoise shade in the SS10 line-up and will set you back €21 if you fancy adding it to your collection.
Its (almost) twin is from Accessorize's new nail varnish range, is called Lagoon, and is priced at a more pocket-friendly €7. Lagoon is a less in-yer-face turquoise than most other brands offer, which puts it close to the almost pastel Nouvelle Vague. The only thing is it's shimmer-free, but the iridescence that's so evident in the Nouvelle Vague bottle all but disappears on the nail so that's really no biggie.
What is a biggie is the mark-up on these Accessorize nail varnishes here. It damn near broke my heart when I noticed it. Oh sure, €7 is cheap as chips in comparison to Nouvelle Vague, but Accessorize nail varnishes are £4 in the UK. Using Kirstie's 25% tolerance threshold to allow for VAT differences and things like higher insurance/staff/rent costs, that means they should really be about €5 here.
Advertised
Exchange rate fail, lads ...