 Oh Spring has certainly sprung! My inbox is bursting with queries about instant remedies for improving the skin which will shortly be on display. It's funny to look back and see how the times they are a changin with the seasons. If this were a film I'd demonstrate the passing of the months with whirling blog shots and calendar dates.
In December you wanted us to blog about glitz and glitter, hairspray and shimmering eyeshadows. January saw the launch of Diet Diaries and Adventures in Colonics. In February we were still talking about dieting, skincare and new Spring makeup ranges. We had a bit of a thing about blackheads if the truth were told. March saw the focus shift to foundations, facials and antiageing lotions and potions.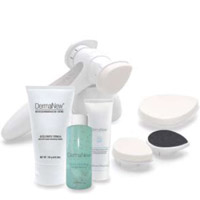 And now in April I see another strong theme emerging, namely cellulite shifting, fake tans and SPF protection. You want to talk about the best ways to get your arms and legs ready for public display, Which tans are the best? Do cellulite treatments actually work? And how can we protect skin from the sun when creams with an SPF only last for two hours?
So I'm starting with the skin preparation - but don't worry we'll be getting to everything else too!
I posted at the weekend about the gorgeous new Apple and Olive salt scrub from Fresh Deli which will be fantastic for giving you smoother, healthier skin. But if you want to take things a bit more seriously - how about body microdermabrasion?
Advertised
Demanew have a full body microdermabrasion kit, it costs £66 - but you get a hell of a lot for the price - and it's going to be the cheapest you'll find because it's available from the fantastic SkinStore website. So confident are they about their prices that they promise a 115% price protection if you buy one of their products and find it cheaper anywhere else.
"Your Home... Your Spa. DermaNew's Total Body Experience turns your home into a personal spa, allowing complete facial and body rejuvenation in the comfort and privacy of your own home."
*Enter code CLUB5 at checkout to save 5% on any Skinstore purchase*
The kit includes the microdermabrasion creme, polishing body wash, moisturiser, applicators for face and body and resurfacing tools