 I've a bob phobia.
It was the only haircut my mother knew and therefore I had a 'bob', in some guise or other for my entire childhood. In fact, so strong was the aversion, THAT I had my hair cut into a short, back 'n sides aged 13 (as currently worn by Tilda Swinton) in an act of defiance. The laugh was largely on me, however, as I was then mistaken for a boy for most of my early teens and, ironically, was lumbered with a bob for another two years on account of trying to grow out the flippin' Tilda.
Long story short, if you're stuck in a mindset in which bobs are dated or boring, why not let these lovelies change your mind.
Cast your minds back to 2012. 'Twas the year a lot of celebrities ordered their stylists to hack off their hair, and the simple 'bob' was reborn. The likes of Leighton Meester, Jennifer Aniston, and Rose Byrne pioneered this look two years ago and have since inspired some of their cohorts to follow suit.
Remember Blair from 'Gossip Girl'? Her illustrious locks were her calling card, so it won't come as a surprise that Meester was itching to get herself sheered once filming wrapped in 2012. At the time she said: "My long, wavy hair got a lot of mileage, so it was time for a change."
And what it change it was. As you can see, when she tentatively debuted her bob at the 'Target & Neiman Marcus Holiday Collection' launch party in November 2012, she seemed a little bit dubious.
It was a drastic change and - let's be honest - her face could pull off pretty much any look, but we prefer her gruaig now that she's rocking (as swell as a new husband Adam Brody,) a longer style. She has passed through the territory of 'The Lob' (seriously, it's a thing, google it.) and is now back as a long-haired lovely.
And we just wanted to throw a picture of Adam and herself in there looking all gorgeous. These may be my new celebrity couple crush.
'X Men' actress Rose Byrne had a similar metamorphosis.
But she also lobbed a fringe into the mix at the 2012 Oscars... AKA 'The Frob'. It's not a thing, don't Google it, you'll be wasting your time. We've coined it and we like it.
And then she popped up recently rolling with a Lob. Rose rocks. As do her cheekbones.
Now, we all know what Jennifer Aniston looked like before, after and with a bob - what with her being one of the most photographed people on the planet, so we'll move on to those who've only just recently taken the plunge. Like Kristen Wigg.
Here she is, modelling her more familiar shoulder length hair...
Advertised
And now check her out in May last at the 'Charles James: Beyond Fashion Costume Institute Gala'.
Nope, we're not entirely convinced either - it's definitely more fashion-y, but perhaps a bit too severe for her features.
Also flying the flag and breaking out the bunting for bobs are Hilary Duff and her surprise doppleganger Emma Roberts.
Moving on to 'The Shob' - which is rather confusingly 'Shaved Bob', or the good ole fashioned 'undercut'.
Demi Lovato has been a fan of this for sometime, but now she's gone one step further by swapping her long locks for a more shorn look and parading it on twitter. And we like it - A LOT.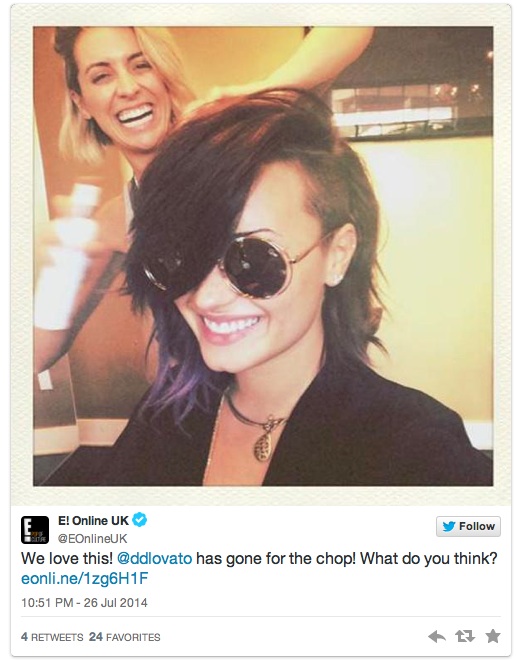 Another advocate for this is look is Rosario Dawson, seen here at the at a 'Sin City' meet and greet and photocall at the 2014 San Diego Comic Con over the weekend.
If, however you're not sure that you want to commit to such a bold look, you can always go for a cheat a la Dawson's co-star Jessica Alba.
If she hadn't grown out her hair so much, we'd be introducing 'The Plob' (best don't Google that, especially if you're in work) to you right about now, but it is a bonafide hack to Rosario's look without any actual hacking.
And if you were wondering if Jessica ever had a dalliance with the Bob, she did indeed - for most of last year she sported a delightful Lob.
So there you have it, the humble bob and its various cousins as worn by the A-Listers. Tell us, what styles do you prefer?
Advertised
Are you a fan of the bob, lob, plob, shot or, eh, frob? Are the days of the hair extensions numbered? And what's the worst haircut you've ever sported?