 With so many highlighters to choose from to 'strobe' your look, how are you supposed to know which one will match your makeup?
With highlighter palettes galore at our fingertips, it's tough to pick the one to match your makeup look. You probably have a highlighter palette at home that has just one colour pretty much empty and the other five still untouched. Usually, we go for the most neutral colour in the palette but those other shades have a time and a place to step up too.
Who doesn't love a gorgeous highlighted cheekbone? It makes your skin look so smooth and gorgeous and positively glowing. It's easy to go for the same neutral highlighter colour every time but it's a shame to see all the other colours go to waste. There are a few ways to choose a highlighter to suit your look.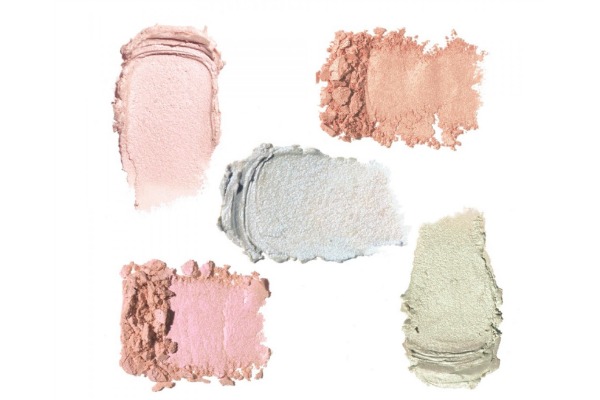 There is a little bit of colour theory involved in choosing highlighters. You can choose an undertone or in this case an under-shimmer to complement your makeup colours. For instance, if you are wearing a pink toned blusher, a pink toned highlighter will set it off and pick up the pigment in your blush. You could also match a golden highlight to a pink blusher to turn it into a really flattering pinky-gold colour. It will warm up the pink which is really flattering for most skin tones.
You can also use your highlight in the same way as you use a colour corrector. If you are sallow-skinned, use a blue or purple toned highlighter and it will cool down your skin tone. A highlight with a green pearl through it will tone down the redness in your cheeks. If you have pigmentation, a peach toned highlighter is ideal to blur out uneven skin tone.
Advertised
Highlighter Guide
Gold: This is flattering and wearable for all skin tones unless you are exceptionally fair-skinned. It will complement and add to a bronzey makeup look perfectly. If you are wearing gold and bronze eyeshadow, gold highlighter will match your makeup look. Gold is the go-to highlighter colour during the summer months if you are sporting tan - real or fake.
Champagne: Champagne will suit all skin tones, again with a gold eye makeup look. Champagne is a lighter shade of gold highlighter so it will work even on pale skins too. It's a little softer than gold highlighter.
Purple or blue: This highlighter will work really well on sallow skin to cool down your skin tone. This will also look really good as a contrast if you are wearing warm bronze and gold tones on your eyes.
Peach: Peach highlighter will work for everybody. Peach is a universally flattering colour. If you have red cheeks, peach won't bring out the redness in your cheeks. Peach is ideal if you have pigmentation. It helps to blur and even out patchy and uneven skin tone. It will also work really well against a cool toned eye makeup look if you are wearing purple or grey eyeshadows.
Pink: Again, you can't go too wrong with pink. Pink and gold highlighters are probably the most popular highlighters. A pearly highlight with a pink undertone will work really well with a classic red lip makeup look.
Advertised
What's your all-time favourite highlighter?