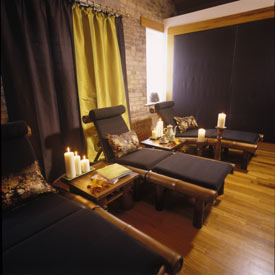 With less than a month to go to The Big Day, getting into the Christmas spirit is going to be the focus of the blog for the next few weeks. But Christmas spirit can often be tempered with Christmas Stress, and when that happens, the festive season doesn't seem like quite so much fun.
If you're running on empty and have an hour to spare, head to the Mandala Spa at the La Stampa Hotel on Dublin's Dawson Street, and get yourself a Frankincense and Cinnamon Massage. At €80, the massage is an indulgent (and fragrant) experience - Frankincense has medicinal properties enabling it to relax and revitalise, making it perfect for tired muscles. It also to helps strengthen your immune system too, which is great during a period of over-indulgence and late nights. The cinnamon used helps to speed up the body's circulation and also helps to relieve muscle tension, leaving you fully revived and in a fabulous Christmas mood.
Advertised
Ahhh, sounds perfect, eh?