 It's finally December, so we've decided to suspend our Back to Basics Tutorial Series for a few weeks in favour of some SERIOUS Christmas makeup. Look into our sparkly vault for an easy Christmas Day Makeup Look, or perhaps an uber dramatic gilded eye is more your cup of tea. If all else fails, go for a dramatic ombré lip.
This week, we're going for a seasonal twist on a classic fifties makeup. Why? Because you just can't beat it. It suits everyone (if you're not fond of red, just substitute a plum or pink lip), and it is easy to do, apart from the liner part. Worry not, though, we've got a handy beginners' cat eye tutorial for you to use!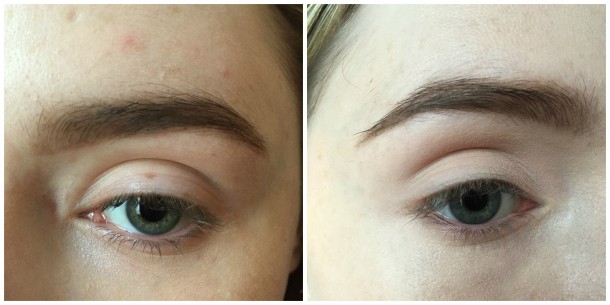 Step One
This is absolutely the time for a reliable foundation that you know and love. A low SPF is important (or indeed none) to prevent flashback horror in photos if you're going to a party. Rimmel's Match Perfection will always be my winter go-to. The coverage is medium buildable, but it makes my skin look healthy, and I love it.
Fill in your brows , giving them a slightly more sculpted look for day. I'm using two matte powder shadows from Mac - in Omega and Concrete - to create a full but not totally unnatural looking brow.
Conceal where needed - this is evening makeup so its important that your skin look as perfect as possible. Well, I mean, obviously it's not really important. Your face is perfectly nice just as it is. But we're going all-out for a festive look, so why not go the whole hog?
Next apply a base shadow all over you lid up to the brow. I'm using Clarins Ombre Matte in Nude Pink, applied with fingers.

Step Two
I'm using the Dior Golden Reflections Palette, but you can use any nude and grey shades you have lying around.
Apply the soft beige all over the inner eye including the inner corner.
Next, with a fluffy shadow brush, apply a taupey grey shade along the crease, as in the above left photo. Blend fastidiously!
Take this half way along the lower lashline too.
When you're happy with the blending, take the dark grey shadow on the same brush and deepen the shading along the crease and under the eye. Blend!
With a flat shadow brush, pat some of the beigey glitter shadow in the centre of the palette onto the centre of the lid to add dimension.
Advertised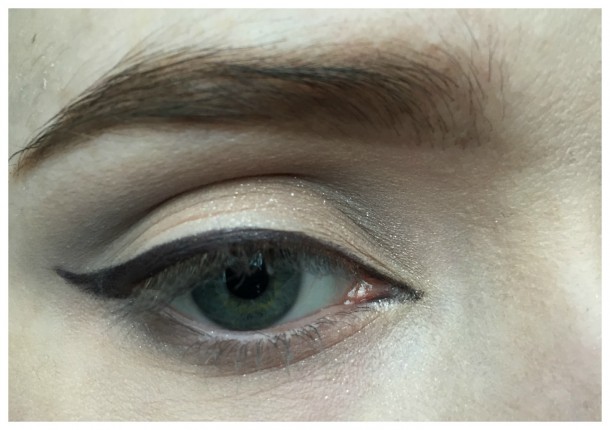 Step Three
Urban Decay 24/7 Eyeliner in Stag is soft enough to create a lovely sharp line with, but has a muted grey brown shade which creates a softer, more doe-eyed look than black. Apply a slim cat eye following the directions in the link at the top of this tutorial.
To enlarge the eye and add drama. take the shadow all the way down to the inner corner and pull it in toward the lower lashline in a little 'V' shape, as in the above photo.This makes a very long, feline eye.
    I've recently become very attached indeed to Urban Decay's Perversion Mascara. No clumping, and a beautiful volumised finish! Apply your favourite mascara liberally!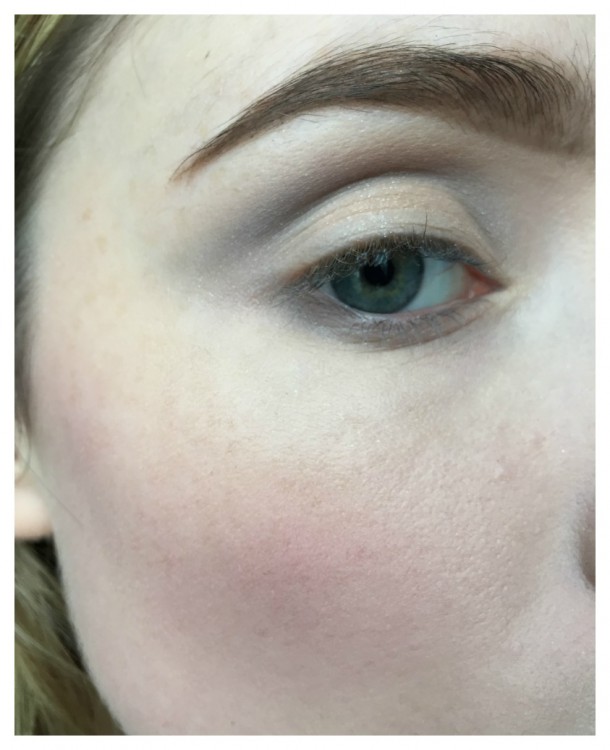 Step Four
Dust your preferred blush on the apples of the cheeks and back toward the cheekbone for a lazy contour. I'm using YSL's Blush Volupté in no. 4.
  For Christmas, it can only be red. You can wear any colour lipstick with this makeup, but red is a timeless Christmas shade.Lining lips is essential to keep your lipstick in place.
I'm using Mac lip liner in Redd, and following the steps in my back to basics lipstick 101 tutorial. Using this method will keep your lipstick intact all the way to the bottom of that basket of sausage rolls!
I'm using NYX's Mat Rouge a Levres in Bloody Mary, a cherry shade.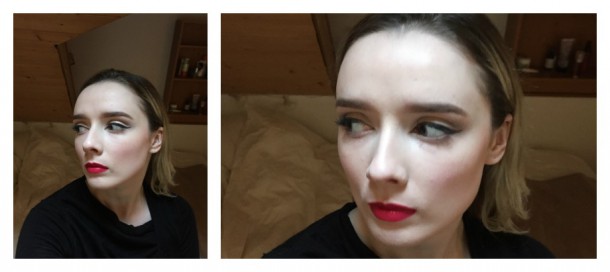 Advertised
Done! It's sultry, but festive and full-on but not overdone! I really love this look - that trick for elongating the eye with liner gives eyes a lovely hypnotic quality, so try not to stare at anyone for too long!
What do you think? What's your ideal Christmas makeup?