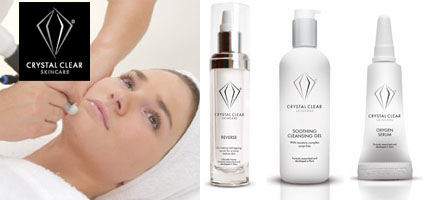 Crystal Clear is brand new to Ireland. It's a top end luxury skin care range that uses the latest techniques, like microdermabrasion and oxygen facials to deliver instant, visible results.
I went for my microdermabrasion a couple of weeks ago. Emboldened by Kirstie's experience, which left her skin positively glowing, I thought, I'll have one of these please! So when the opportunity arose to try out a microdermabrasion with Crystal Clear I jumped at the chance. I had the mirodermabrasion and Beaut.ie's fave journalist Roisin Ingle was booked in at the same time for the Oxygen Facial.
We giggled on opposite couches while getting pampered. I have to say that microdermabrasion feels a little to me like getting your face sanded and I wasn't really keen on that... BUT let me allay any fears. Microdermabrasion doesn't hurt. It doesn't leave your face red. In fact it leaves your skin clear and glowing. The Crystal Clear experts explained to me the different sorts of treatments that are commonly confused with microdermabrasion:
Dermal Peel: this is what Patsy had in Ab Fab
Dermabrasion : this is what Samantha had in Sex and the City
These two procedures are much more heavy duty and harsh. Microdermabrasion is not like that at all. It's the baby of the family. It just gently sands the top layer of skin, buffing those fine lines away and revealing fresher younger skin.
Advertised
The Crystal Clear face masque was amazing. God, I remember a photograph being taken while I had it on and Roisin and the therapists laughing like drains. If anyone ever wants to blackmail me, here's a good way to start! Icy cold, the masque and the treatment left my skin so soft to the touch.
My skin did feel irritated all day afterwards though. Not sore or red or anything - just irritated. I actually didn't think I'd go back for another microdermabrasion (a course of them is recommended) because I'm more into the soothing, pampering type of facial. But as the days went on and I saw how good my skin had become I changed my mind - I'd go back in a heartbeat!
I'll be telling you more about the luscious facemask in a while - it's in my 3 week trial phase at the moment (as you know I think all good skincare deserves at least 3 weeks to prove its worth). But early results are very good indeed!
I'll also be letting you know where you can get a Crystal Clear treatment for yourselves. AND I think we might be having a Crystal Clear competition very soon with lovely skin care goodies to give away! Watch this space!