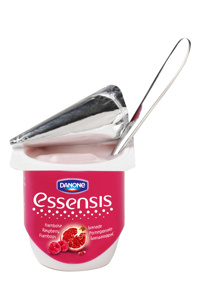 We all know that diet can have a major impact on how we feel - and look. If you eat crap, you tend to look like your primary dietary sources are McDonalds and the ready meal isle of your local supermarket. But if you eat well, it equally shows - in your clear skin and healthy hair.
French brand Danone recently launched a new dairy product, Essensis, available as a yoghurt and as a drink, which they say is a dermonutrition product specifically aimed at the skincare market. The new range, which comes in 3 flavours (plain, peach-apricot and raspberry-pomegranate) , contains a fancy ingredient called ProNutris, which itself is a combination of omega 6 from starflower oil, antioxidant-tastic green tea, vitamin e and those all important probiotics too.
Use it for 6 weeks and you should notice a big difference. It nourishes the deepest layer (the layer topical skincare products find it hardest to permeate to) of the skin, and it can also aid hydration - it can actually help keep moisture in the skin, good news for anyone who finds their skin tight by lunchtime.
Advertised
WIN: I have 4 vouchers giving €2.99 off the purchase of a pack of Essensis. If you want one, e-mail [email protected] and the first four to reply with their name and address will be getting a voucher in the post.