 We're all familiar with this scenario - you have to be somewhere after work and you'd like to look a bit snazzier than you would during your standard working day. But who wants to bring an enormous bag of makeup to work?
Rather than having to remove all your makeup and then reapply something more appropriate for night, here's how to go half-way with your day look, so that all you need to do is apply a little more and touch up your day makeup. That way, you can go and have fun without having to make too much effort. Win win!
Step One
I've done my base with my normal daytime foundation - Rimmel's Match Perfection in Light Porcelain. I've applied it with my fingers. It's definitely not a night time foundation - it's sheer, but we'll fix this later when more coverage is needed.
I've also applied a little brow powder to my eyebrows - again, I'm going for subtle. This has to be appropriate for work.
On my cheeks, I've applied a little of Mac's Well Dressed blush with a fluffy blush brush.
Step Two
Using a flat eyeshadow brush, pat a matte beige shadow onto the lid. I'm using Mac's Brulé.
Then, with a fluffy blending brush, blend a dark brown matte shadow (I'm using my beloved Shadowy Lady by Mac) into the crease and across the outer third of the eye, as in the picture. We're aiming for a subtly smoky finish; just enough to enhance the eyes.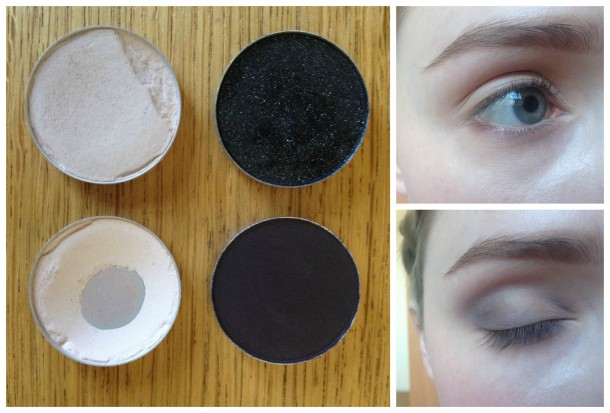 Step Three
Grab any black pencil liner you find easy to work with - I'm using Mac's Feline - and draw a rough, thin line along the upper lashline. Lift the lid to wiggle the pencil between the lashes - white patches are undesirable!
Your line should end at the natural stopping-point of your eye - don't wing it out.
Blend your line with a pencil brush and pull the blended liner up over the outer third of the eyelid (where you've placed your darker shadow) for added intensity.
When you're happy that everything is blended and seam-free, dot the liner along the lower lashline.
I always find it easier to blend liner into the lower lashline with eyeshadow. So, swirl your pencil brush in your dark brown shadow (in this case Shadowy Lady) and use it to smudge the dotted liner. You should find it easier to blend that way.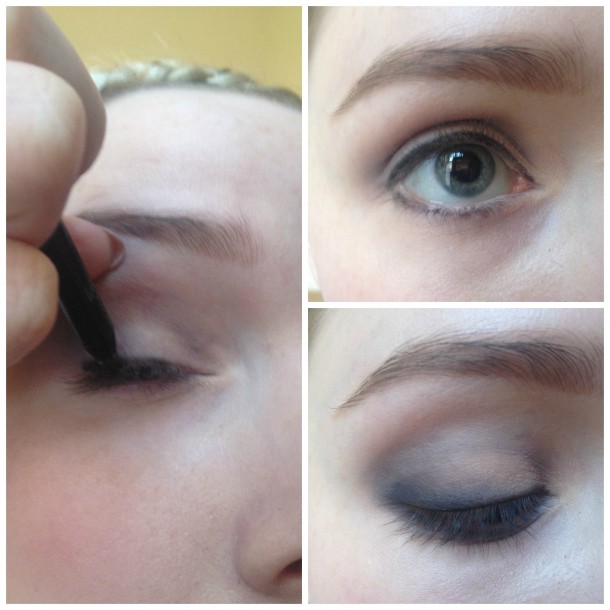 Step Four
Apply a couple of coats of your favourite mascara and some balm on your lips. I'm using No.7 BB lips in Ballerina.
Done! Off to work with you!
Advertised
Step Five
Okay, so you've had a long day, your makeup is probably a little worse for wear - you need more coverage and in the dimmer light your day look has lost all its drama.
Grab the dark brown shadow you used before and apply more along the crease and on the outer third of the lid. Take this under the eye too.
Then, for increased definition, take a satin or shimmery pale shadow (I'm using Mac's Vanilla) and pat it onto the inner two thirds of the lid to brighten your eye and refresh your eyeshadow. You can use your finger for this.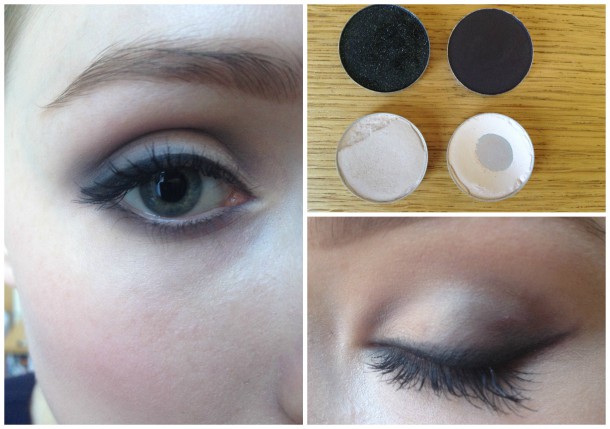 Step Six
Whip the black liner you used earlier out of your bag and draw a defined, thin line along the upper lashline - wing it out.
If you really want to amp up the night time feel, then run the black liner along your waterline too. I've skipped this step.
Then, with a sparkly black shadow (my favourite is Mac's Black Tied) and an angled brush or trusty cotton bud, go over the liner, pulling the shadow in an upward direction to soften the line.
The finished effect should be a soft, smoky line. This step might take a bit of patience - just keep building the black shadow until you achieve the desired effect.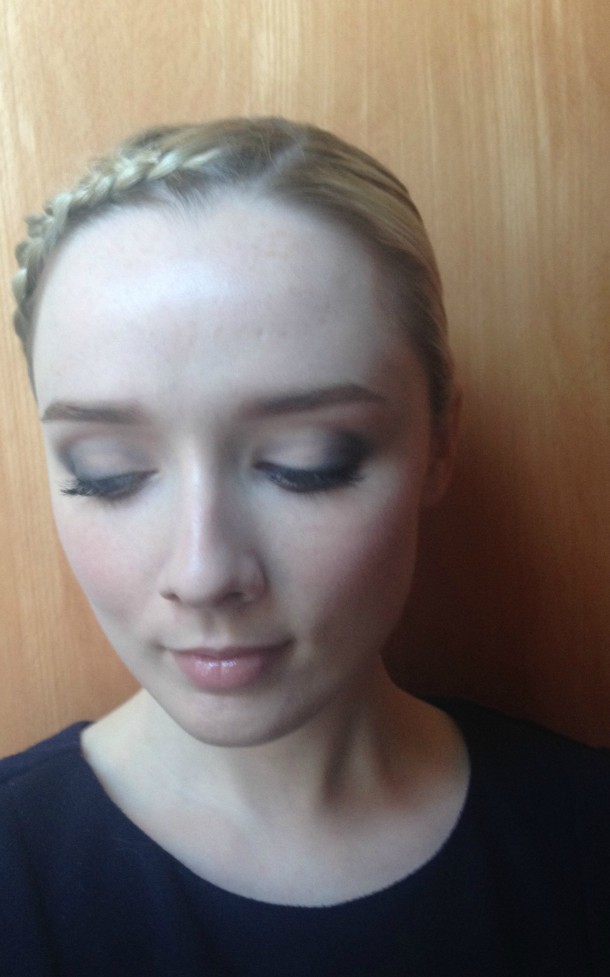 Step Seven
If you have the time and inclination, you can do as I have and apply two individual lashes to the outer corners of each eye. I've used eyelure individuals in medium.
Step Eight
You'll definitely have some falldown from the eyeshadow now. Just clear it up with some concealer under the eyes.
If you need to increase the coverage of your base to match the more full-on eye, then apply the concealer to the centre of your face - around the nose and chin area, in the centre of the forehead and at any high points like cheekbones. I've chosen NARS radiant creamy concealer - it's great for light reflection and coverage.
Advertised
I've finished the look by applying a neutral lip - I've chosen Mac's Lipstick Shy Girl.
And that's the finished look! Can you see yourself using this day to night transition look?