 This No.7 serum says that you can have 'glowing healthier looking skin in one week'. But what does that mean exactly?
The No. 7 Glow Activating Serum aims to do three things: protect your skin; refine pores; and boost radiance. The unique 'double defence' technology protects your skin from all the antioxidants that attack it every day. Matrixyl 3000 Plus is a peptide which is to help with collagen production, this promises to give you younger looking skin. Matrixyl 3000 Plus will also help with the cell renewal process. It should encourage your skin to shed dead skin cells, refine pores and give you a more even complexion.
No.7 serums have made more than one appearance on Dr Phil. He must have a soft spot for them! That may or may not impress you. They are sponsored slots on his show after all but I like to think he wouldn't endorse a brand he didn't really believe in.
One thing they mention on the show is that they spend years on research and development for all of their products. This particular one underwent a consumer trial with 182 women. The No.7 serum range has the same ingredients as some of its much more expensive counterparts. S,o for the price of this serum, you are getting some top quality ingredients.
Advertised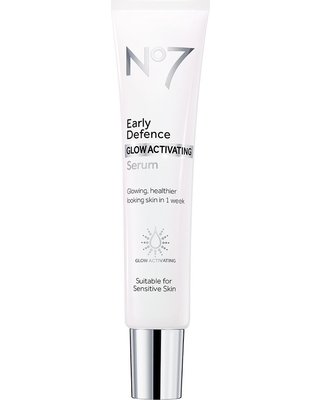 No.7 Early Defence Glow Activating Serum €32
The serum feels lovely on your skin. It is cooling and hydrating. I have dry skin, so I put a moisturiser with SPF over it. I use SPF every single day, but it is especially important when you are using peptides on your skin. If you have a pretty good skincare regimen going on then you probably won't see a huge difference in your skin within a week of using this serum. I didn't notice any ground breaking changes but my skin was hydrated and quite even-toned. I love the comfort of applying this serum and it sits well under makeup.
Are you a fan of this long-standing skincare brand?