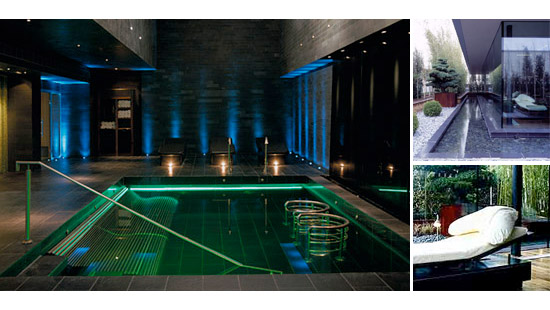 A disastrous hair cut the day before meant that my temper was close to boiling point anyway. A flat tyre on the way to the Blog Awards in Galway compounded my mood, ensuring that I arrived at The G late and in a less than angelic mood
I was too late to do any more than quickly nip into the Ladies Tea Party (which was handily being held across the landing from my room) to say a very quick hi to Sabrina and Elly.
And then it was down to the spa. The G had invited me to come in for a treatment - and I was only too delira to say yes. Poor me, it's a tough job etc. It's okay, I feel your sympathy.
First off - I'd never stayed in G before. Heard loads about it of course and it lived up to expectations. It's flipping gorgeous and the spa is as fittingly lovely. Twelve spacious treatment rooms, changing room and soothing lighting set the scene for this full body massage. I chose the oil blend I liked best, the gentlest therapist ever, Irene, adjusted the lights in the treatment room to the colour I preferred (amber), massaged and smoothed hot stones for an hour and at the end of it all I felt about a zillion times better.
My shoulders are knotted tighter than tangled steel wool and there were a few Ooh Ah Paul McGrath moments as Irene worked to ease the tension out of the muscles,but I always grit my teeth through that bit as I know it's worth it.
Advertised
And it was.
Sadly I hadn't a spare second to snooze in the Thermal Suite (which I was only dying to do), as it was helter skelter up in the lift to change for the Blog Awards. Nothing I could do with my horrendous hair, but at least I was too relaxed to care.
Next time I go back I'm going to take lots and lots of time to float around in a robe, chilling out in the Thermal Suite and Relaxation Area. And I'm definitely getting this massage again.
I had an ESPA Muscle Relaxing Massage (55 mins €100). Click here to view the Spa Broshure (as Hyacinth would say)