 Your kitchen cupboard if packed full of ingredients with tonnes of health benefits, and not just when eaten!
Hidden among the tins of beans and boxes of cereals, there are items that you can easily include in your beauty routine, and best of all, they are completely affordable chemical free!
Here are some food items you are sure to have in your kitchen right now that are amazing for your skin:
Almonds
Almonds are delicious, they full of good fats and the perfect on-the-go healthy snack. But they also make a great a great face scrub-simply blend handful into a grainy powder and mix with a drop of your preferred oil (we like coconut), massage gently onto your damp face and wash off with warm water.
Strawberries
Strawberries contain salicylic acid and vitamin C, making them amazing for your skin. Vitamin C and salicylic acid remove dirt and impurities and neutralise excess sebum, making them a gentle treatment for oily skin. The acidic nature of strawberries also help to lighten blemishes and scars. They can be blended to be used topically on problem areas or mixed with other ingredients such as lemon juice or honey and used as a face mask.
Advertised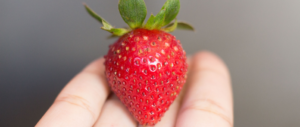 Coconut oil
Realistically, you probably already have coconut oil in your bathroom as well as your kitchen but if you don't you need to! Coconut oil is an amazing moisturiser for the skin and hair and also provides UV protection. It is particularly effective on very dry, irritated skin or eczema.
Oats
Oats are an effective treatment for irritated, damaged or sunburned skin. Simply blend and put them into your bath as you would bubble bath. Then all you have to do is light some scented candles, sit back, relax and let them do all the work.
Lemons
Advertised
Lemons have antibacterial properties which make them great at fighting spot causing bacteria. To make your own hydrating, zesty facial cleanser, simply mix a few drops of coconut water with a few drops of lemon juice onto  a cotton pad and cleanse as usual. They coconut water hydrates your skin and the lemon helps fight acne causing bacteria.