 This morning, Beaut.ie got an extra sneaky sneak peek at the newest V by Very collection for Littlewoods Ireland
This time of year is one of the busiest times in the fashion world. At Fashion Week, those in the know get to sit in the FROW and start planning their next season outfits before the rest of us. Today, we got an even better opportunity, the chance to see Littlewood Ireland's SS17 collection before tomorrow's official unveiling. How. Lucky. Are. We?
Stylist and fashion writer Corina Gaffey was on hand to greet us this morning, despite being knee-deep in fabulous new clothes, shoes and accessories. While she dressed and directed the two beautiful models, Sarah and Yomiko, we perused the rail.
How hard do you think it is to choose one piece from a carefully curated selection? Very hard. Very hard indeed, especially when you have to decide between such diverse trends, from athleisure to feminine ruffles to boyfriend chic. And the shoes. One item that we ordered online then and there (seriously) is a really clever and totally gorgeous reversible coat, camel on one side and in an amazing shade of orange on the other. If you agree with us and love this piece - or any of the other pieces from the V by Very collection and everything else on littlewoodsireland.ie - we've amazing news. As a Beaut.ie reader, you can avail of an exclusive discount worth 20% off new season spring clothing plus footwear when you spend over €50. See all the details at the end of the page.
Because we love a style challenge, we had to choose one favourite piece each, and mine was this V by Very Ruffle Sleeve Midi Dress (€52).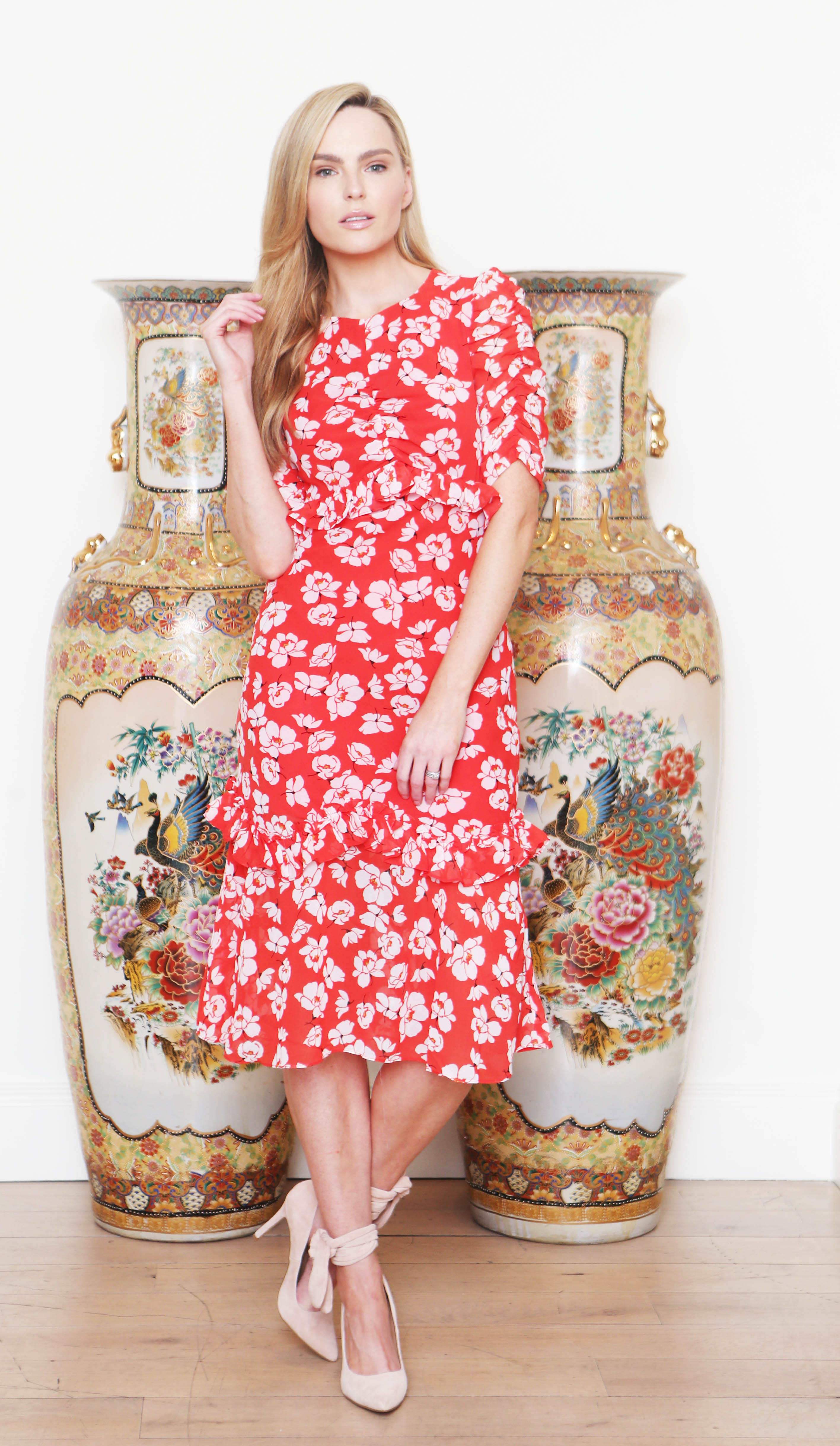 The style team assembled, and we all agreed that this could be the perfect dress for a bride's second-day outfit. The 1940s feel makes it feminine, and even though the pattern is floral, the colour palette is tough and flattering, making it a really versatile all-year-round piece. Spring Summer is where its heart is, however, and we can't wait to wear it to the first garden party of the season.
Corina's choice was also a dress, but one from the opposite end of the SS17 spectrum. The zip-front body-con dress (€42) is sexy and sporty at once, and we predict it will be a sellout. It's one of two dresses that are opening tomorrow's fashion show.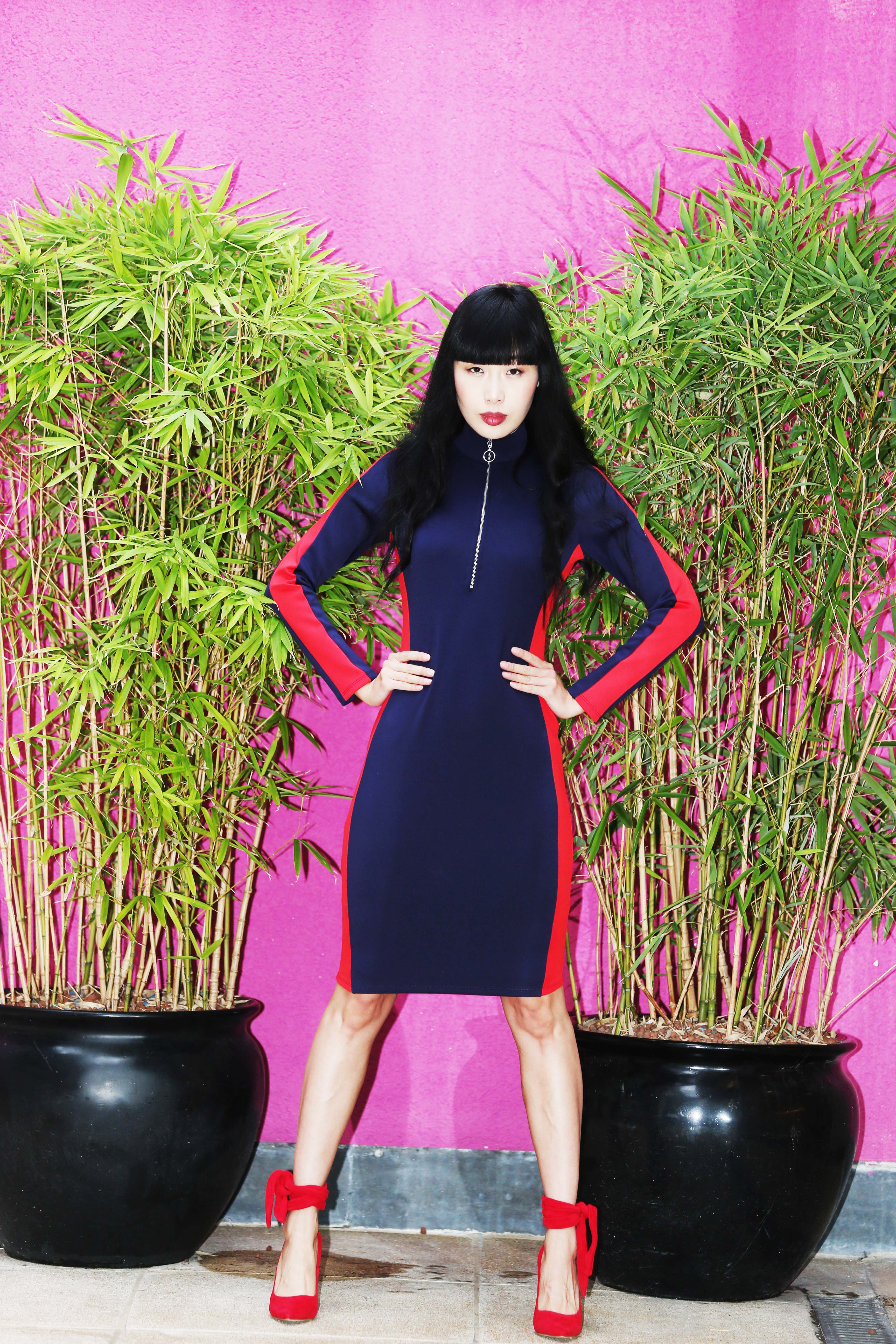 Advertised
As well as letting us see the collection, Corina explained to us what it's all about, "The sporty, relaxed trend is the perfect opener for the show. It sets the trend and the show as well, but then there's a completely different phase with more of the girly looks, the more feminine dress styles like one we shot Sarah in with the red and the floral. It has a really nice midi-length and really flattering sleeves.
V by Very is all about versatility and having different pieces for your wardrobe and being that different girl every day. Not everyone wants to wear the same style every day whether you want your boyfriend jeans day with a pyjama top kind of style or go more dressed up with the body-con, or really cute and frilly with a party dress. It gets really boring if you're just set in stone and stuck; I think it's really nice to mix it up and have fun. Because fashion is all about having fun and expressing yourself, and that's what V by Very is all about."
I asked Corina what she thinks is the most accessible trend for everyday wear. "I think the sporty trend we've seen coming through is still really accessible from the bomber jacket which has gone a little bit more luxe and the rucksacks that you can just throw on. The jogger look is still hanging around and the body-con sporty dress can look really cute with a pair of runners dressed down and or dressed up with a pair of heels, so it's the perfect day to night dress. It's updating the little black dress to something completely different."
And if you're wondering what the shoe of the season it, it's the V by Very Zoe Real Suede Soft Wrapped Heeled Shoe (€58). Corina used the shoe in red, black and nude and you will want a pair in each colour.
Littlewoods Ireland and Beaut.ie have joined forces to offer readers an exclusive discount worth 20% off new season spring clothing plus footwear when you spend €50 or more. Littlewoods Ireland has free shipping, meaning you get free delivery and free returns through Parcel Connect and Parcel Motel on all orders, while the flexible range of payment options** means all budgets are catered for. For further details, visit www.littlewoodsireland.ie. To avail of the code, simply enter the code KPAJT at the checkout before midnight 28th February 2017.
Promotion Code T&C's* This promotion applies to one order only for clothing and footwear for €50 or more placed until midnight 28th February and is subject to our approval. Returned goods will not count towards the value of the order. This promotional offer cannot be applied to discounted or sale items or used in conjunction with any other discount or promotional offer. This offer is based on a minimum order value of €50.
Credit Account T&C's*** Terms and Conditions and Lending Criteria apply. We may accept or reject any application for credit or for a credit limit increase at our discretion. The terms of our Flexible Account are available upon request or online at www.littlewoodsireland.ie

Advertised