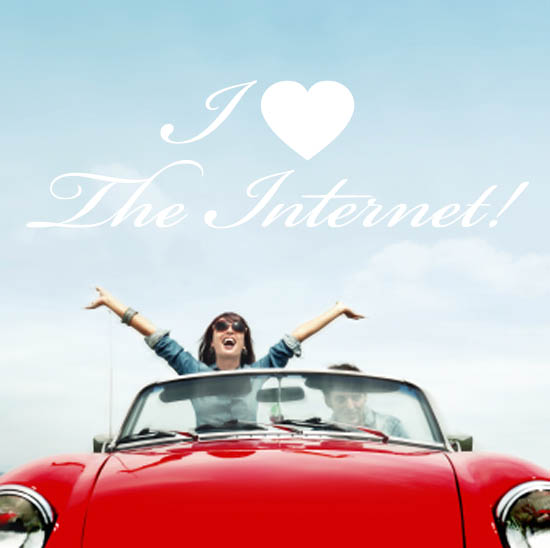 In addition to being a wonderful repository for videos of cats being snort-tea-out-your-nose hilarious, the Internet is a veritable goldmine of useful information.
Thanks to the Internet, I know the very best way to get residual wax out of candleholders (fill them with boiling water, wait for the wax to melt, float to the top and solidify, and then lift it out), have drilled holes into the body of my car to ensure a flush fit for parts salvaged from a newer model (terrifying but worked out beautifully in the end), and only last week managed to save a whopping 30% on a pair of just-hit-the-shelves Carvela wedge sandals (avowed wedges-hater Ryan Tubridy can just suck it.)
It's also my first port of call for all things beauty-related - and probably yours, too, given where you're reading this. Over the last ten years or so, the information I've gleaned on the Internet has probably had a bigger impact on my routine than anything else.
1. IT'S SAVED ME MONEY
Gone are the days of shelling out for beauty bits that don't perform or shades that don't suit my skintone: I now very rarely buy a new product without first checking out reviews and swatches online. That's not to say I'm completely immune to the siren call of an especially alluring launch or a gorgeous advertising campaign, but hey. At least I can make a well-informed, considered decision about whether that lovely looking product I'm lemming might ultimately turn out to be useless to me.
Being able to buy products cheaply from reputable online stores has also helped keep shekels in my wallet, of course, and they're where I do quite a lot of my post-research purchasing (you can find some of our favourites here.)
2. IT'S CHANGED HOW I APPLY MY MAKE-UP
I've been using a foundation brush, MacGyvering heated eyelash curlers, and had a good handle on liquid liner since before l sat my Leaving Cert, but everyday's a schoolday when it comes to beauty on the Internet. Most recently I took an endorsement from Lisa Eldridge as a sign to do something I've been wondering about for years: I retired my fluffy little MAC 217 brush from eyeshadow duty, washed it thoroughly, and pressed it into service as a concealer brush.
I'm RAGING I didn't do it sooner.
Advertised
I've stopped taking my undereye concealer right up to my lower lashline on Leonard Daly's advice and discovered loads of great new eyeshadow looks and techniques courtesy of tutorials from the likes of Pixiwoo and our own Sara. It's like having your own personal make-up artist (or indeed, several of them) on stand-by.
3. IT INTRODUCED ME TO THE ASPIRIN MASK
Listen, I'm the first to admit that my experimentations with Internet-sourced recipes haven't always worked out as planned, either in the kitchen (kale leaf chips, anyone?) or in the realm of beauty (that cinnamon face mask will haunt me for EVA) but the awesomeness of the aspirin mask more than makes up for those epic fails. It is the only thing I've found that manages to instantly calm the beacon-like redness and inflammation left behind after a squeezing session.
I know, I know, it's disgusting, but I was a prodder and poker long before I became a beauty blogger. Old habits die hard, but at least now I know how to disguise the evidence.
Grissom himself would have a hard time finding the scene of this particular crime after my aspirin mask's done its thing.
4. IT'S A ONE-STOP MYTHBUSTING SHOP
Not if you're relying on Wikipedia, like, but sites like The Beauty Brains and Colin's Beauty Pages are great resources for debunking popular beauty myths.
Probably best not to tell your ma that you always knew her skincare tips were a load of bullology after a visit to them, though ...
5. I'VE MET LOADS OF LOVELY LADIES
For years I thought I was the only beauty obsessive in the village, but sure it turns out there's a whole global online community of nail nuts and product whores to talk beauty with! And I didn't even have to create a personal ad ("Shortarse sometime-blonde with unresolved dermatologist issues seeks foundation lovers for virtual chats and hilarity") to find you all.
Advertised
What do you love about beauty and the Internet?