 When the weather gets better, it's time to get the legs out ladies, and I mean that in the nicest possible way!
Skirts are a summer staple and whether you want an A-line style for the sunshine, a pencil skirt for work, or mini for a night out, choice is not a problem this year. The catwalks have taken to new season styles like Anna Wintour to Vogue and we are blessed with inspiration.
Colour is plentiful, and if you love prints, then you are in the best place possible.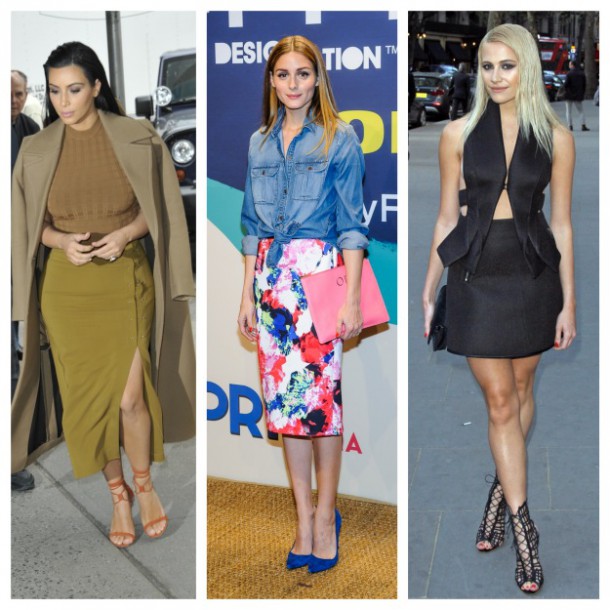 Skirts are a firm celeb favourite, and ever since Carrie Bradshaw wore that ballerina tutu, we were hooked. We know Kim K is a pencil skirt fan from her frolics at fashion week, and she is fond of pastels and dusky colours, as well as her signature black and white.
And I adore this look on Olivia Palermo. A printed skirt is an easy way to inject a little colour into your look; they key is to keep everything else nice and plain. Pixie goes all out with this black mini skirt for a glam night time style (my gosh I wish my legs looked like that). 
Advertised
To keep your fashionable appetite under control, I've gathered my favourite pieces for under €50 that you can mix and match to create lot's of different summertime outfits.
Wear the skirt and swap your tops (I should copyright that phrase)!
If you like the A-line skirt this season, then check out some of the co-ordinated pieces like the above style from New Look. Rather than opt for a dress, the matching top and skirt is a great option for occasions (I just need washboard abs to wear that crop top).
Advertised
Evening wear is a little lighter on choice, but Penneys have a dream skirt in stock this month that reminds me of something from The Great Gatsby! But try and make it more contemporary by keeping the top half a bit more casual. Minis are here to stay, but experiment with colour and texture. And an embellished skirt will catch those rays of sunshine but will also look great withs some opaque tights for the colder months. 
What skirt style is your favourite? Or have you spotted one you think you'll invest in for summer?