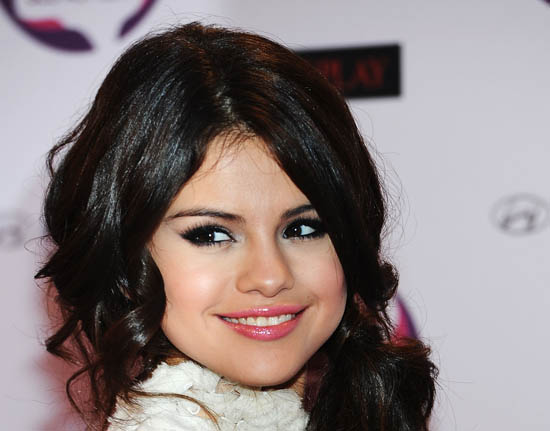 Selena Gomez - a person who, hands up, had not really been much of a blip on my radar  - looked very lovely at the MTV awards, all gamine and gazelle-like (what is she doing with Beiber!? Surely they are not doing ... it) and I went to a Mac masterclass last week hosted by senior artist Lesley Keane to find out all about what went into creating her red carpet beauty look.
At 19, it's pretty clear she doesn't need a lot on her face, and Lesley revealed that lots of airbrushing was apparently used backstage at the awards with a big trend for doll-like skin. So to fulfill that requirement, on the night of the awards Mac mixed up copious quantities of Face and Body foundation and Face and Body Mixing Medium with Strobe Cream and spritzed complexions for a plasticized, hyper-real finish that looked incredible.
At home, apply Strobe Cream to moisturised skin. Next step? Buff your foundation of choice on in circular movements using a stippling brush (check this post for a couple of new ones we've been testing) for a flawless, airbrushed finish.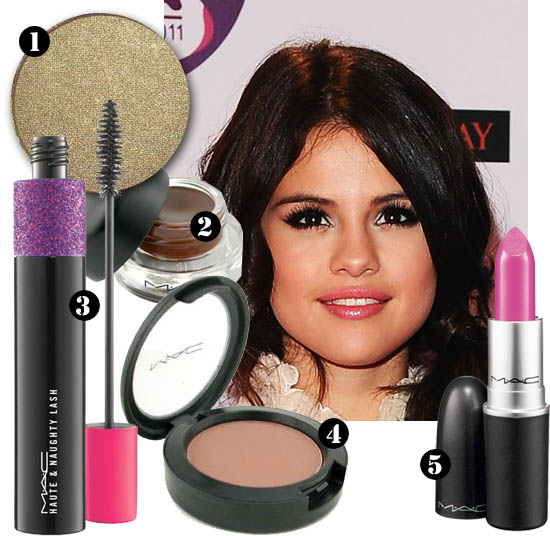 Eyes were the focal point of this look. As with all of Mac's new launches, products are trailed by artists at fashion weeks and shows before launch. Selena actually wore a forthcoming Metal-X shade, Venetian Tarnish, on her eyes. It will launch in December and I'll be able to show you info on the collection later this week.  In the meantime, you can dupe the look with an existing shadow shade. The classic Mac colour, Sumptuous Olive, (1) is ideal, as would any shimmering olive-toned shadow.
What's interesting about this look is it's pretty much one shadow colour on the lid with Mylar shadow as a brow highlight, and that's it. "The new trend is for one shadow, one brush," reveals Lesley. Anyone terrified of 657 colours on 56 different brushes, breathe a big sigh of relief.  She applied the shadow (Metal X has a creamy-powder consistency which applies and blends well) to the lid as well as high on the inner corner by the nose, then blended it all really well for a 70s finish.
Advertised
Liner was also a big feature here. Use Fluidline in Dipdown (2) and an angled brush and create a thick line at the edge of the eye, tapering into a finer point inside. Blend it out so it's not harsh, and add some on the lower lashline too.  Lesley's tip for knowing where to wing your liner is simple and smart: "where the last lash stops growing, that's where you start winging," she reveals.
Lashes should be liberally coated with Zoom Lash or Haute and Naughty Mascara (3). Looks to me like she's got some lashes in place too, so you could add them as well, if you wanted.
Contour was achieved with Harmony blusher (4) and a 129 brush (Lesley recommends that to find the correct place to begin, grab hold of your ear. "Start at the curve of your ear and you'll feel the cheekbone. That's where you begin placing the color.") Next up was lips.
Apply Lipstick in Girl About Town (5) straight from the bullet and use a 228 brush to join the edges if necessary. She also had a smart tip when you're wearing bright colour: "be careful, the upper lip should always be bigger than the bottom lip, so make sure to bring your bottom lipstick colour in under the top lip."
At this point I was discretely wiping my red lipsticked pout in the back row in case I had broken a cardinal sin of makeup, but it's a good pointer and one that will help you get a sharp, graphic finish to a neon pout. If you preferred, you could just go the gloss route and choose a Dazzleglass in a shade like Love Alert or Steppin' Out.
So, that's Selena's EMAs red carpet re-create. Yes, I'm not 19. At first glance I probably wouldn't have gone for it - but it's actually very wearable, not to mention easy to achieve.
Advertised
What do you lot reckon? Something you'll give a go to for your next jaunt to the pub?
Pic credits: Image.net
Get Beaut.ie Delivered
Stay updated with Beaut.ie newsletters full of the latest happenings at Beaut.ie as well as great offers and things we think you might find interesting .