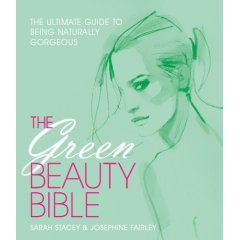 Josephine Fairley and Sarah Stacey's 21st Century Beauty Bible is one of those indispensable books that no beauty junkie should be without. Packed full of expert opinion and recommendations, it's a must-have. Now the glam pair have gone one better and have just launched the Green Beauty Bible. Like the name says, it's a timely tome full of news and product reviews on natural and eco-friendly beauty buys.
So what's inside? Beaut.ie faves like Kimia, Dr Hausckha, Trilogy, Origins, Aveda and Liz Earle get namechecked, the book itself is printed on recycled paper, and there are tons of quotes and tips from people like makeup artist Laura Mercier, massage facialist Vaishaly Patel and eco hair-guru, John Masters. Not everything featured is 100% organic or natural, rather, the authors have presented a selection of brands and products that are making inroads into the sphere of environmentally-friendly beauty. It's easy for us to tell what's what though - a daisy rating is used, with 3 daisies signifying a certified organic product, while 1 daisy denotes something that is principally botanical, with small amounts of petrochemicals or other synthetic ingredients. So as a guide, it's very useful.
Advertised
Where to buy? Any good bookstore will have it in stock, or you can buy online from Amazon or Play.com for about €17.