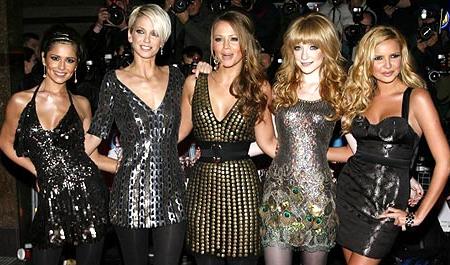 News has reached my desk that Girls Aloud are set to create a line of bespoke false eyelashes for Eylure. There'll be 5 styles available, one by each member of the group, the idea being that each signature pair of lashes will reflect the personality and taste of their creator.
Now we all know that Cheryl was vamping it up with false eyelashes during her stint as a judge on The X Factor, but actually the rest of the Girls Aloud crew are no strangers to the wonders of falsies either. In fact, this collaboration is just the latest development in a long-standing alliance between the group and Eylure. Liz Martins, their make-up artist, has been using Eyelure lashes on Girls Aloud for years, apparantly, and last year she designed black glitter and Swarovski crystal falsies for the girls' Tangled Up! tour which Eylure then produced. They're thought to have got through a whopping 154 pairs of lashes in the course of the tour... which consisted of 34 dates. Which seems like an awful lorra lashes.
Which leads me to think that either they all have numerous extra eyes concealed about their bodies or else must, at this stage, be bona fide eyelash experts in their own right.
Advertised
Retailers are said to be nearly wetting themselves in anticipation of the launch of these lashes, and it's not hard to see why - Girls Aloud fans are already talking about purchasing several pairs of each design (some to wear, some to keep in their original packaging as collectors items, some to put up safe in case of emergency, from what I can gather). All that hype and the things themselves won't actually be instore for another month.
Still... I have to admit that I'm quite looking forward to seeing what Cheryl et al come up with. I don't care how wrong that is!