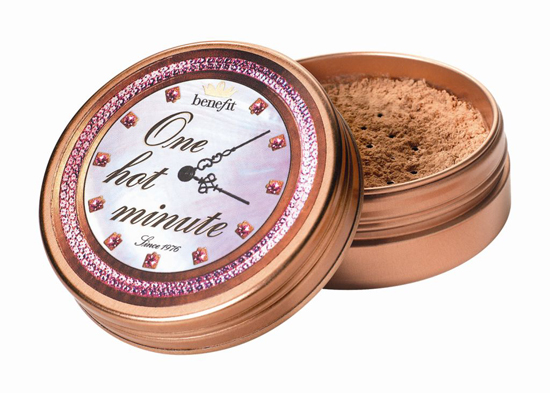 I've been checking out Benefit's newbie, One Hot Minute over the past couple of weeks, and here's the verdict.
"For a gorgeous "gaze at me glow" sweep this loose rose-gold finishing powder over your complexion and décolleté. All it takes is...one hot minute!," is the Benefit blurb and as usual, the packaging is pretty and witty. One Hot Minute thankfully comes in a metal tin, so it's transportable. All good.
Also good is the dispensing mechanism inside: the interface to the powder isn't completely open, rather it's a bit like talc where there's several holes punched through an inner lid, so it's not wasteful. Bad is the brush. Yuck, I didn't like this little wimpy approximation of a fan brush, so I ditched it, but at least it gives you a clue as to how you should apply this - whisper-fine, a light touch is what's required.
Advertised
The powder itself is a peachy-bronze that feels nice and silky and has subtle shimmer. It's pretty, but the problem for me is that there's just too much colour in it and I did look like I was having a hot minute. A hot flush minute. Sigh.
The only reason this isn't for me is because I'm too pale as it is and it's November - I'll revisit this in the summer, but if your skintone is darker or you go for that look then this is going to be a hit.  You can use it elsewhere too - down the legs and on the décolleté, which makes it a bit of a multi-tasker if the shade suits. €34.50 is the damage but you'll get it cheaper if you go direct to www.benefitcosmetics.com.