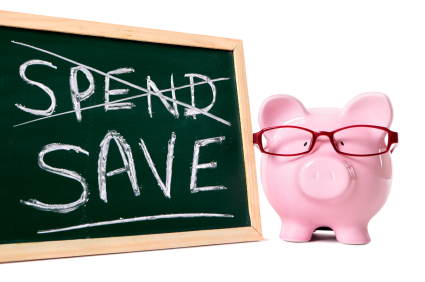 A serious product junky, there is very little on the market that Karen from Lovelygirliebits.com hasn't tried.   And I mean very little.  She's tried everything - high end, low end and everything in between.  This girl has FIFTEEN foundations in her makeup bag.  Add to that millions of lipglosses, nail polishes and lots of skincare and she's well placed to give us her opinion on all things cosmetic.    Karen does say that she will name us in her bankruptcy suit but I've got some sad information for her: we have no money.  We've spent it all on makeup ourselves!  A firm friend of Beaut.ie and one of our favourite blogs: head over and give Lovelygirlybits some love.  Take it away Karen!
Spend or Save?
Ladies, The Big Question is "When should I splurge and when should I save on products"? I am a crazy person and love buying and trying products from both ends of the spectrum and will continue to do so forever and ever Amen.  It's in my waters, the constant need to find The Perfect Product and I blame Beaut.ie in featuring so many things that I feel I need to try and if I need to file for bankruptcy I will name and shame Aisling and Kirstie in nudging me towards my downward spiral to financial ruin.
Skincare: Spend
I can't explain enough how much better my skin (oily/combination) looks and feels when I'm using higher end products . I think with the more expensive stuff comes less fillers and more active ingredients that actually work. When I used to buy skincare in Boots, I ended up spending more money in the end, because I was never really impressed with anything and after about a month would start on something else.
My advice? Read the skincare posts on Beaut.ie and other blogs to get an idea of what's out there and go to the counters in Arnotts, Debenhams or Brown Thomas and talk to the sales assistants. Don't be talked in to buying a whole range from a brand, just stick to one thing and see how you get on with it.
Research is key and I've learned that over the last couple of years.
Mascara: Save
I pretty much buy my mascaras in Boots or Superdrug, but the exception this year has been Benefit's They're Real. It really is a fantastic mascara and I've even convinced my non-make up loving sister of that fact too! I think for a product that you're supposed to chuck away after a few months (I totally don't do that, if it starts to smell or go dry, then it gets the old heave ho, but until then, it's staying in my stash) I can't really be bothered spending more than €10 - €15 on one. Two of my favourite mascaras of the year are from Bourjois,cheap as chips and are used all the time.
Primer: Spend
Eyeshadow primers - In my experience and with my oil slick eyelids, the more affordable eyeshadow primers just don't work for me. I've given both the Essence and Catrice primers a go this year and I was raging when my eyeshadow creased really early on in the day.  I mean, you can't really be telling your coworkers "Oh this is the look I was going for, the Pixiwoo sisters love when eyeshadow creases, yeah".
Advertised
Urban Decay Primer Potion and Two Faced Shadow Insurance have never let me down.
Lipstick lipgloss, blusher: Save AND Spend
Ooh there are so many great products out there on the market these days. We're spoiled on the more affordable end of the spectrum with the extremely pigmented and long lasting Pout Paints from Sleek that are just €5.70 and my handbag is full of lip glosses from New York Colour. That being said, there is something lovely about taking out a really nice lipstick and having everyone going "Ooh that's lovely what is it", only for you to smugly say "Oh this? It's Chanel"! My mission for 2012 is to finish that sentence with YSL and/or Tom Ford.
I'm a huge Nars fan and love their multiples, Orgasm being my favourite (I mean, what girl doesn't love a good Orgasm)? But at €41 a pop, Orgasm is something you'd have to wait and save for: so if you want instant pleasure, New York Colour have recently released their much anticipated blushable Creme Sticks in two colours and at €3.49, are great value and really pigmented.
Foundation: Save.  I think
I have fifteen foundations in my collection.  It's so hard finding one that works for you because everyone's skin is different and thus reacts differently to the product and environment.  On the more expensive end of things, I love Lancome and Clinique foundations. When Lancome discontinued my one ever Holy Grail foundation, Adaptive, I went into mourning and had to start my search all over again.
However, there are a serious amount of affordable foundations  in our local chemists. The Body Shop, Avon, Bourjois and Catrice have all made it into my every day make up cycle and I rarely venture outside this Fantastic Foursome. I don't think it's one of those things that follows the rules of the more expensive, the better. I've tried Chanel Mat Lumiere in the past and automatically thought I'd love it. Serves me right for buying it just because it was Chanel and had only swatched it on the back of my hand. Oh lesson was learned folks!
Nails - Save
Joanne and I are demented in our love for nail polishes. We have amassed a ginormous collection over the years and to be honest, I'd say about 90% is from Boots, Superdrug and Sally's Beauty Supply. We were excited to welcome two Chanel polishes to our family this year but were bitterly disappointed in the chippage factor. I wore Rouge Carat to a party a couple of weeks ago and five hours after applying it with a topcoat and everything, it chipped. And I mean proper chipped. Halfway down my nails chipped. Danced with my hands in a fist chipped.
We're going to give some other luxury brands a go in 2012 but until then, we're very much happy with our Sally Hansen, New York Colour, Essence and China Glaze members of our nail polish family. They've never let us down yet!
Advertised
So ladies, what do you splurge on and where do you save? Help a girl out!
Thank you so much for your words of wisdom Karen and all of your support over the years.  We heart Lovelygirliebits.