 I'm always on the lookout for anything new and exciting that will eliminate fat with, ahem, little or no diet or exercise involved.
Call me lazy, but having spent the last four months watching what I put in my mouth and exercising four times a week I feel great comfort in knowing that there is something out there that can help with those stubborn fat pockets that the gym and diet just can't fix. (Not at my expected rate anyway.) Who knew working out and healthy eating took so long to work?!
I ventured down to the lovely Sabrina in Aphrodite clinic once again (read my thoughts on '3D lipo') to see if I could target my double chin and lower tummy.
I got all settled on the bed, and a damp towel was placed over my tummy. Sabrina explained that the towel is to stop bruising or frostbite on the skin. Next, a vacuum-like device was placed on the fat area. And - it literally sucked the fat right up.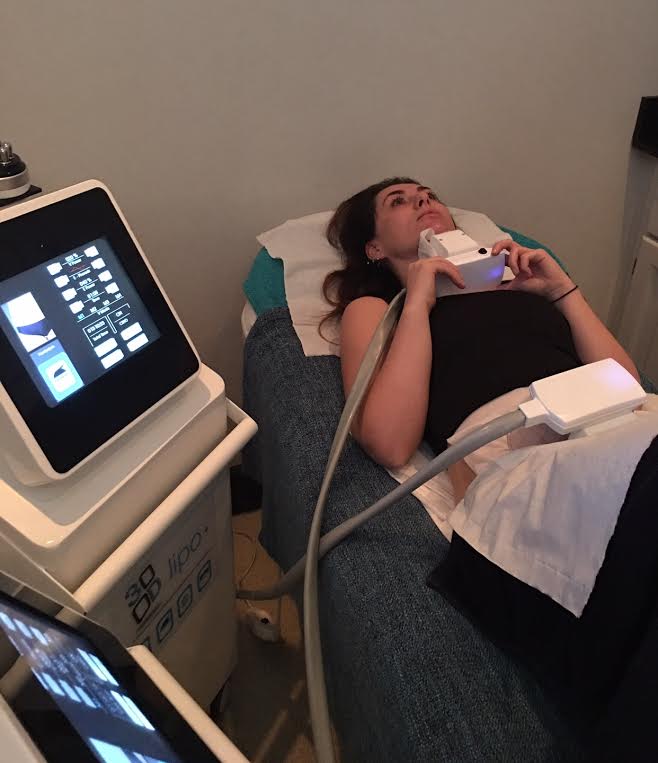 Advertised
The sensation is a strange one. It's not painful or sore, but cold. Freezing to be exact, but just in one area, which is odd. But you just lie there and relax and enjoy the time out.
What is happening is that the fat freezing (cryolipolysis) uses controlled cooling to target and crystallise fat cells as they freeze at a higher temperature than blood. In the weeks and months following, remaining fat cells condense, reducing the fat layer. Crystallised fat cells gradually die off and are naturally eliminated from your body.
The process even continues to work for up to six weeks after your treatment as that's how long it takes for your body to get rid of the fat that was frozen during the process. A difference can be seen after one session, however, visible results depend on how each individual's body reacts to the treatment. And because it can only target a small area at a time, results are not dramatic. But it could be a good option for brides wanting to loose that one little stubborn jiggly bit before the big day, perhaps?
The good news - the amazing people at Aphrodite Laser and Beauty Clinic based on Main Street, Clane, Co Kildare are giving Beaut readers a free consultation with €50 off treatments over €399.