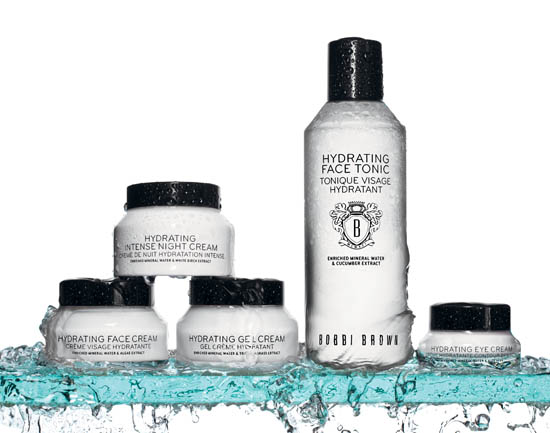 There are brands which excel at colour and brands which reign supreme when it comes to all things skin; it's not too common to come across one that's genuinely good at both. And while Bobbi Brown's skincare is relatively uncomplicated and makes no wild claims, uses bonkers ingredients, or even receives much in the way of a press push, it's quietly and steadily impressive and tends to nourish skin and give a good base for makeup.
The Extra Eye Repair Cream is a current fave of mine and I am genuinely noticing a difference, which is quite amazing given my general scepticism regarding eye creams and while Aphrodite had a bit of a blip with the cleansing oil (which she may be coming back round to if a recent conversation is anything to go by) I know we have lots of BB skincare fans on the blog as well.
So that's why I'm telling you about this little lot: Hydrating Skincare is a new line from the brand that contains five products containing enriched mineral water. On counter now and designed for dehydrated skins (hello, me)  you can snap up Hydrating Face Tonic, €25, Hydrating Gel Cream, €46.50, Hydrating Face Cream, €46.50, Hydrating Eye Cream, €40, and Hydrating Intense Night Cream, €54.
Advertised
There are a lot of lovely moisture grabbers and humectants across the product range, as well as nice ingredienty bits designed to deliver plumpness and smoothness to skin like lots of oils, shea butter, B and E vitamins, collagen and algae. The net result sounds great and while I haven't tried anything yet, this is precisely the sort of stuff I'd pick for myself based on the descriptions. On paper and pixels, it all sounds wonderful, and there's just one bum note.
Price.
It's always the same with Bobbi Brown unfortunately, except for the odd palette with a reasonable conversion. I love this brand dearly, but dearly is the cost: the differential is staggering - the Hydrating Eye Cream costs £27 in the UK; €40 here, likewise, the day creams at €46.50 are priced at £33 sterling. I foresee a lot of phone calls received at House of Fraser, Belfast. For the sake of your Republic of Ireland customers who are loyal to the brand, sort it out BB, please?