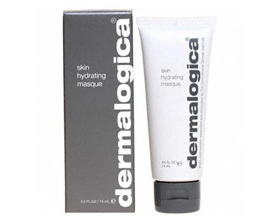 It's fair to say we're a savvy bunch of navvies on beaut.ie when it comes to skincare. And I'm not talking about myself and Aphrodite, I'm talking about all you folks who comment on the site each and every day. We observe your suggestions and recommendations and you guys really know your stuff.
One of the collective things we know is that a major factor in the battle for smooth skin is proper hydration, and masks can play a really important role in that battle - nay, war. There are loads of different types of masks - mud ones for removing excess sebum from oily skins, ones to deep cleanse, and then the sort I'm interested in today, ones to hydrate and plump skin.
I call Dermalogica Skin Hydrating Masque my hangover helper. It's a "hydrating, oil-free gel that restores critical moisture to dry skin without unwanted oiliness, helping to restore suppleness and reduce the appearance of fine, dry lines." After a night on the beers, there's more than a few fine lines on my face - bleedin' big gouges, more like.
On particularly bad days, I slather on a dose of this stuff, and get back into bed. I'll leave it on for 15 minutes or so, then wash it off, and apply my regular moisturiser. It never fails to perk up tired, wan and dehydrated skin.
Advertised
And best of all, Aphrodite has recently discovered that Adonis Grooming is the definitive source of cheap Dermalogica - oh holy words. Get over there and get your paws on some Skin Hydrating Masque right this very minute, for the bargainous price of €27.50 (mine cost me nearer to €40, gaaah!!)