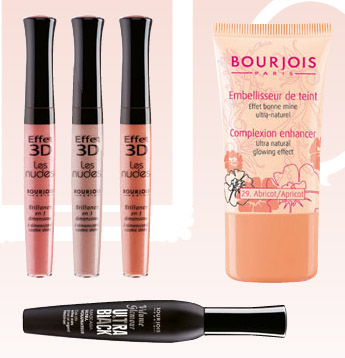 Bourjois is a cheapy brand that's really pulling out all the stops recently. I've largely ignored their offerings since I was in college, when their shadows were my faves, but spending power has vaulted my cosmetic wishlists ever higher, and they rarely made my radar any more. That is, until recently.
Quirky new packaging designs and clever little palettes are winning new fans all over the shop, and the launch of several new ranges per year has also added to their appeal. The current Spring range is called the Nude Collection and features mostly the same old same olds - updated Little Pots of Colour, and mascara plus some new goodies like some very nice looking nude glosses, new concealers, and what appears to be their answer to Benefit's cult wunder-luminzer, Highbeam.
Advertised
It's called Complexion Enhancer, and you're advised to blend it over cheek, brow and nose bones for 'an immediate pick me up'. Whether that's over or under foundation, I don't know - but I am intrigued. Has anyone tried it? If so, leave us a comment and tell us what you thought.