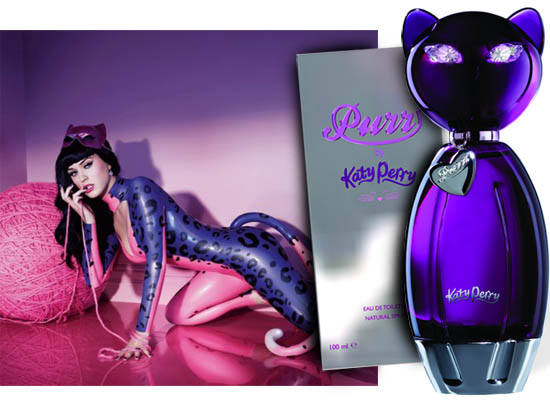 You'd have to be living in a media vacuum to not know that rubber dress-obsesser Katy Perry has just launched her first fragrance, Purr.  Selfridges London was the venue for the UK bash and naturally enough, as Selfridges is owned by Brown Thomas' Galen Weston, I put in an email to the Dublin store to request info on availability.
Bad news: BT ain't carrying Purr. Good news: the Perfume Shop is, where a 50ml EDP will go for €47.
Let me lay my cards on the table here: I'm not interested in this because of either Katy Perry (though I do adore the fact she calls her cat Kitty Purry and she seems like a bit of a game burd), or the scent itself.
No, no. IT'S THE BOTTLE!
Oh, look at that shape.
Gaze upon its ways.
Advertised
My leaning-towards-kitsch sensibilities are going absolutely nuts for this. I mean, it's really got all the tacky attributes I look for in, oh, anything: diamante, glittery accents. A bright, uber-glossy finish. A nod to Sanrio with the cute Chococat-alike shape.
It's quite the thing.
The one problem is, while I'd pretty much buy this for the flacon alone, I know I'll detest the juice. Here's the gen:
This deliciously flirty accord opens with enchanting top notes of juicy sweet peach nectar freshened with dewy green bamboo and crunchy forbidden apple leading us down to a floral garden of white jasmine blossom, hot pink freesia and Bulgarian roses. All of this is then enveloped in exotic indulgent tones of vanilla orchid, warm white amber, creamy sandalwood and nuzzling skin musks.
Um. Yeah.
Keywords ringing my alarm bells in a Kiefer Sutherland apprehending terrorists in 24 manner are: flirty, juicy, sweet peach nectar, vanilla orchid. I think this is going to be a great pick and a stellar Christmas present for teenagers and younger gals who were raised at the altar of Harajuku Lovers and Beyonce Heat; but as I've said many many times before, my sensibilities are the exact and polar opposite.
Advertised
Nevertheless, I will definitely sample this if I get the chance - have any of you had a sniff yet?