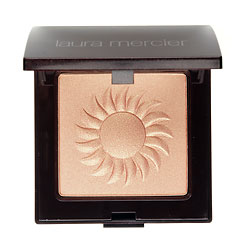 If you weren't confused enough already about which highlightin' shimmerin' powder to adorn your noggin with, then here's another one to add to the mix, courtesy of Glittergirl - it's Laura Mercier's Shimmer Pressed Powder.
It's a nice little compact with an embossed sun on the product that's perfect for Spring / Summer, and which will give skin a warm summer glow and enhance your natural radiance.
The shade is a peachy pink colour, with what appears to be golden highlights - gorgeous!
Advertised
Buy from Laura Mercier in Brown Thomas stores, and I'd say it'll be in the 30 region.