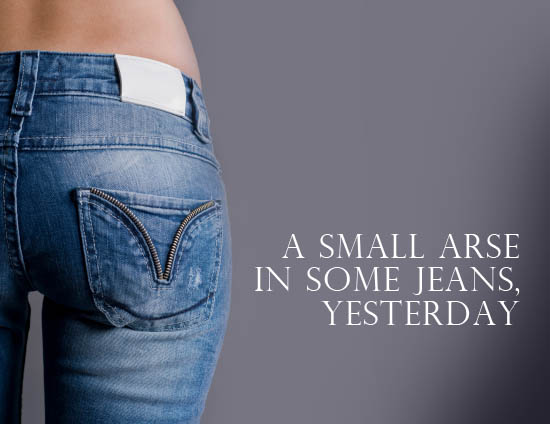 I was pondering this puzzling thing recently and thinking of setting up a fashion blog specifically so I could write this one post (and then abandoning said blog) because I am sick to the back teeth (and side) of mag articles, trend pieces and TV style shows rocking out items about "your perfect jeans style to suit every shape." And then sure I just decided to stick it here instead. On th'auld beauty blog. Cos we all wear clothes, don't we?
Here's the TRUTH: for some of us, there just is no "perfect jeans style".
None.
Zero jeans flatter, so we don't wear them. I never, ever wear them. They are vile on me.
I have a rear upon which you could park two kittens with comfort, and therefore trousers make me look like shite and skirts suit me way better. Jeans don't skim curves, they accentuate all your awful bits, they point out to the world how very, very fat your thighs are, they give you muffin top, two bellies and you end up buying big tops to cover yourself past the arse to disguise all that, which ends up making you look bigger all over. Em, ah no.  Ah you can just simply keep all that now thanks very much.
Advertised
I am not thin (or a fashion expert), but I do know this: if you don't wear things that do not flatter your figure, you will always, always look heavier. Jeans? For me it's a forget about it: you don't have to wear them, you don't have to feel like you're missing out and there are definitely, 100% not a pair out there to suit every single person on the planet. Just like there isn't an itsy bitsy teeny weeny yellow polka dot bikini out there to flatter all comers, you pick and choose what you want to wear to suit you.
Fashion people, stop trying to pretend that jeans and frigging wrap dresses are one size fits all. They're not.
Oh - I don't for one second believe this crapola about buying bootcut and/or wide leg to balance heavy hips either. Bloody big bootcut, is all I can say. Also, boyfriend jeans? Gimme a break. Only 1% of the population with gamine, slinky hips could get away with them without looking like they were off to paint a few walls, and I have never unwillingly been exposed to so many arsecracks as I have since the rise in popularity of skinny jeans.  Denim, if you ask me, has a lot to answer for.
Ah, that felt good. Who else never wears jeans?