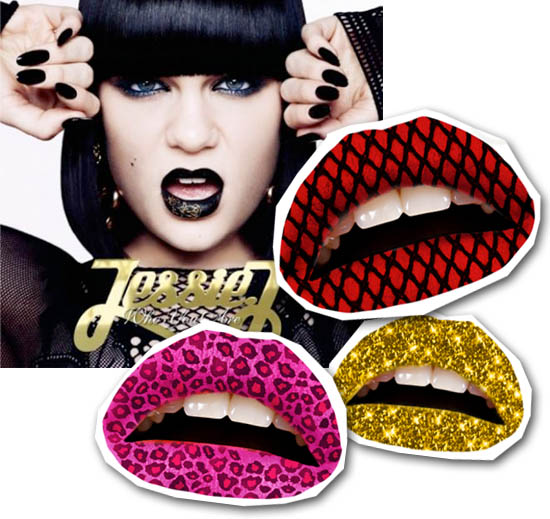 Forget temporary tatoos, Minx nails and nail transfers - there's a whole new part of you to pattern.  Sort of making the whole lipstick or lipgloss debate seem like something out of Jane Austen, comes the  lip transfers phenonomen.
Violent Lips (http://www.violentlips.com)  have a whole host of lip transfers in leopard, fishnet, sequin and rainbow - and they look AMAZING.  But how easy would it be to eat and drink?  How long would they last?  And how on earth do you put them on?
Videos on the site explain all, but I'm telling you, after I'd watched the tutorial on application my heart sank to my boots.  I'm the kind of person who can't even manage to apply false lashes, so god alone knows how I'd get on with these.  Bits of lips stuck on, the rest of it left on the transfer sheets I'd reckon.
Jessie J has been using transfers to toughen up her look and they do look totally goth fabulous on her.  Truth be told though, Ms J is probably one of the least rock and roll pop stars around.  Shocked she was by the goings on at the Trinity Ball when she performed at it this year.  Horrified by the drunken antics of the revelers (she doesn't drink herself due to health problems).
Advertised
They look great in photos but I'm not sure how er practical they'd be for actual life.
But when did that ever stop us!  What do you think?  Are you dying to try them - at $14.95 they're not going to break the bank, and the site ships internationally.
Or maybe you think they're disgusting - tell us you thoughts!
Get Beaut.ie Delivered
Stay updated with Beaut.ie newsletters full of the latest happenings at Beaut.ie as well as great offers and things we think you might find interesting .