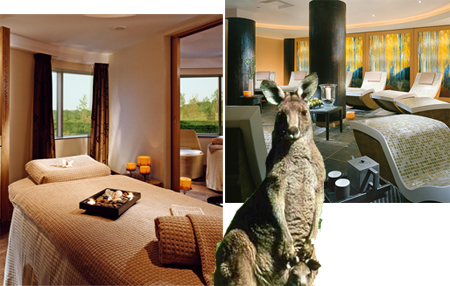 A while ago, myself and himself ventured down to Cork to a wedding in Glengarriff. Now, it's about as far west as you can go in the county, and as I don't drive, we decided to halve our journey and stay overnight in Cork city, before braving country roads to West Cork the next day. Just as well we did, because we got lost approx 67 times, but that's a story for another day. Or blog.
So, where did we stay? At Fota Island resort, no less. As we were being golf-buggied to our course-side lodge (about 500 times the size of our flat - we could have slept in one of three bedrooms! Three! And a huge kitchen! Believe me, this is a big deal to a person who lives in 440sq ft of space) one of the uniformly charming staff told us that it's not uncommon for animals to escape from the wildlife park next door and hot-foot it about the resort grounds. I spent the entire visit hoping to see a kangaroo bounding across the golf course, or a lemur hanging cheekily out of an auld tree, but sadly it was not to be.
What was to be, though, was a friggin' gorgeous dinner in the on-site Sheraton hotel's fine-dining restaurant, The Cove.  Stuffed to the gills, we rolled back to our lodge. And sure of course I gave the spa a go too. Massive, with loads of treatment rooms, various relaxation areas, thermal and hydrotherapy suites, there's also a 16m pool. The product of choice at Fota Island Spa is Comfort Zone, an Italian spa brand. It's always nice to try a new range out, so I plumped for a Hydra Memory facial, €85, to destress and hydrate. Treatment rooms are spacious and comfortable and my 50 minute therapy combined the usual cleansing, exfoliating and toning steps as well as masques and lots of lovely hydrating elements, leaving me with fresh, bright skin that felt noticeably more comfy than it had pre-treatment.
Advertised
A great place for relaxation, it'd also be brilliant for a hen party - take a lodge, have a laugh with the girls and get pampered and fed up at the hotel  - plus Cork city is just a short cab ride away too if you wanted bright lights. If you can't wait that long, for Christmas, the spa has a special gift on offer: €280 gets you a trio of treatments that you spread over a quarter year. Month one, get a mini pedi and mani, in month two a luxurious Hydro Memory facial is the treatment of choice, and in the last month you'll be treated to chocolate wrap and balneotherapy bath.
Sheraton Fota Island Hotel & Spa, Fota Island, Cork, 021 4673000, www.fotaisland.ie/spa/