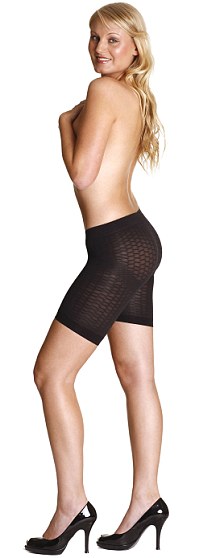 With party season about to kick off in earnest very, very shortly, it's probably a safe bet that most of us will be breaking out the magic knickers over the next couple of weeks. Unflattering and sometimes uncomfortable as they may be, we keep them around for their wondrous ability to smooth away lumps and bumps for a more streamlined silhouette under figure-hugging LBDs or spangly frocks.
And now, as if we needed another reason to keep shapewear on standby, there are versions that claim to reduce cellulite as well as suck you in in all the right places! Sounds good, right? Instant gratification and long-term gain? Well, Debenhams have just launched Peachy Body Pants, which reckon they can shave up to three inches off your arse thanks to a combination of micro-massaging material and extracts of moisturising peach, antioxidant green tea and coffee beans to eliminate excess water.
Mmmm. Before you try to figure out how long the infusion of extracts might last in the knickers' material or wonder why they couldn't come up with a sexier sounding name or race off to Debenhams to buy a pair, I should tell you that the manufacturers reckon you need to wear them for eight hours a day for at least 21 days to experience their full cellulite-busting benefits.
Advertised
Might be more comfy just to stick with normal Spanx for parties/special occasions/Evints and try not to look at your bum in bad lighting for the cellulite ...
Black or nude Peachy Body Pants, €39 (€47 for a high-waisted version). Black leggings, €59.