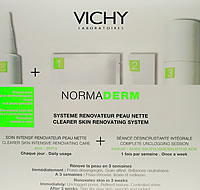 We're obviously microdermabrasion kerazee on beaut.ie today - both myself and Aphrodite, in a weird mind symbiosis type thing, published posts about last night's MDA results on How to Look Good Naked. So you've now read what they rated (twice!) - but what do WE think is good?
I am very enamoured with the Vichy Normaderm microdermabrasion kit which I tried out a couple of months ago. It's a really really simple kit to use, as everything is numbered in the order that you're supposed to use it - so it's totally idiot proof.
It's meant for use once a week for three weeks, and all the product is packaged in individual sachets and pouches in generous proportions. Plus the aftercare moisturiser contains an SPF 15, which is vital when using a MDA product - your newly revealed skin is so sensitive at this time.
Advertised
This, like the rest of the Normaderm range, quite simply works. It's a great product if you've been having bad breakouts or just want clearer skin for summer. It's about €30 and is widely available from chemists nationwide.