 The fash pack may have migrated to London as the Spring/Summer 2013 shows continue, but I'm still trying to digest some of what came out of New York last week. We saw headbands made from zippers, but Alexander Wang was definitely one that had me reaching for the Rennie: the simple centre-parted ponytails that Redken's Guido Palau paired with the deconstructed silhouettes and minimalist palette weren't remarkable in themselves, but the choice of hair accessory was definitely on the unusual side.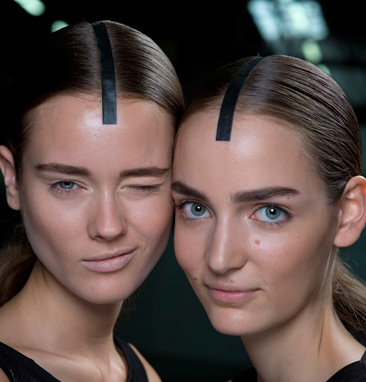 Do not adjust your monitor. That is indeed tape that you see stuck along the middle of the model's heads, like some kind of futuristic take on an Indian tikka headpiece. And don't worry if you can't put your hands to some black electrical tape come spring 2013, because a strip of masking tape will do the job just as well.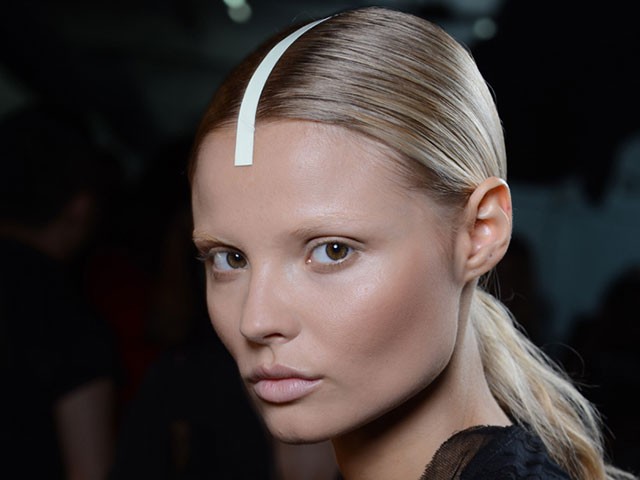 Try to make sure it's the low-tack stuff, though, to avoid any accidental scalpings come removal time.
Advertised
It's obviously an extreme editorial look, but it beats the messy beyond bedheads we saw at Vera Wang. What can I say: I'm always a sucker for a tikka-like headpiece and I think the tough-girl utilitarian chic aesthetic was strikingly effective for the purposes of the show. And sure wouldn't it be a novel way to disguise grown-out roots or second day oiliness if you ran out of dry shampoo and couldn't find a hat?
Will you be giving this one a go in your local, say?
Images via Grazia Daily and Lifestyle Mirror