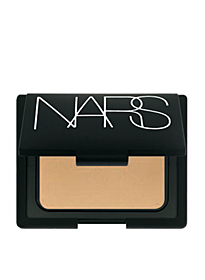 Oh I love NARS. So much! Always developing new n' fab makeups for our application style joy, and this new Sparkling Pressed Powder is one that's going to impress a lot of you, I feel.
Now, I wouldn't be mad for pressed powder the rest of the time, unless I was going for a very retro 40's look, but this stuff is meant for use as a highlighter, which means you'd use it to sweep across cheek and browbones, for shimmer and emphasis, and not use it all over your foundation.
NARS say that it "illuminates the complexion and leaves a lustrous finish. Infused with a super-fine gold shimmer, the effect is subtle rather than overpowering, and ideal for day or night, and for women of all ages"
Advertised
Yum yum yum yum! It's available in 3 shades, and should cost about €30ish.