 I hate winter. I really hate it very much. One of the few things that boost my spirits in the cold weather is a lovely lipstick. I do wear mattes in the summer, but they somehow don't feel quite right in the warm weather during the day.
In winter, though, you can be as daring as you like with formulations and shades - a heavy matte berry doesn't look amiss on a grey October day.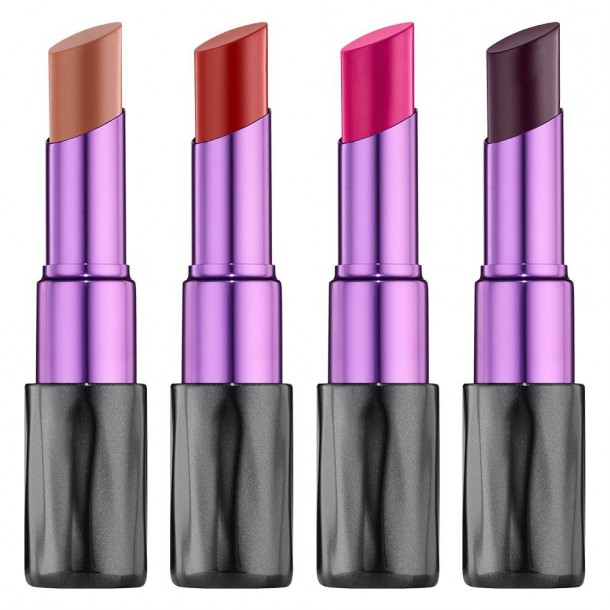 Enter Matte Revolution Lipsticks from Urban Decay. The formulation is shockingly pigmented and opaque, available in eleven intense shades.
Smooth, creamy and non-drying, these are still completely matte on the lips, so you will need to apply a balm beforehand. The staying power is great, and as is always the case with Urban Decay, all of the shades pack some serious pop.

Advertised
Above is Matte Stark Naked (left), and Matte Menace (Right). Yes, the nude shade looks a little terracotta on my lips, but on someone with a warm skin tone, it would look beautiful. Menace is so pink that it almost makes your eyes hurt - that's exactly what you want in a statement lipstick. These will be available from September at €19.
Another new release, the Flexible Hold Brow Gel, is also great. You won't wear a statement lipstick every day, but you may well use a brow gel. As any blonde will know, finding a gel for blond brows that doesn't have warm, reddish undertones. For someone with cool blonde hair, reddish brows look straight up weird. The new brow gel in taupe (pictured below) is perfect for blondes - there isn't a hint of red in sight.
This will be available at €18.50 in five shades from taupe to dark, including a universal clear shade.
Advertised
Are you an Urban Decay fan? To the comments!