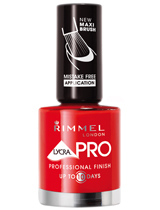 Rimmel are always good for fashion-forward nail varnish shades at prices that are easy on the pocket, and they've just added a new line of polishes to their portfolio.
I mean, literally just - these babies are only hitting the shelves today. Lycra Pro varnishes feature a Maxi Brush of 800 bristles that's curved at the end for foolproof one-stroke application; the sheer number of those bristles means that it can hold onto polish more effectively than a bog-standard nail varnish brush so even the most ham-fisted among us should be able to wield it without dripping excess colour all over the gaff. Once you've actually got the nails painted, the Xtra Life LYCRA formula should give you a durable finish as it provides flexibility and shock absorption to minimise chipping. Meanwhile, UV protection ensures that your colour remains fade-proof. I've been trialling the coral/tomato red of "Coral Romance" which is a gorgeous vintage-y looking colour (no less a woman than Himself's granny remarked yesterday that she thought the colour on my nails was really lovely), and apart from a bit of even wear around the tips it's been lasting really well.
Advertised
At €5.55 apiece, there are 21 shades to choose from at a Rimmel stand near you now!