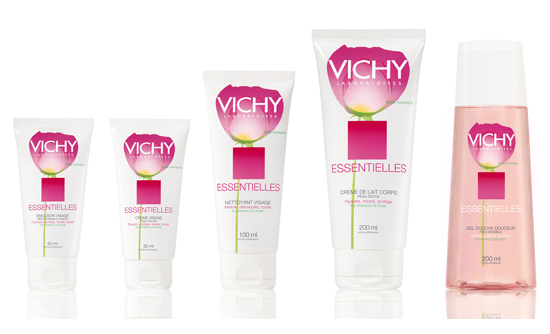 Well hello there now, I thought when this little feller popped into my creaking, wheezing inbox yesterday (groaning under the weight of all the gorgeous beauty booty I'll be bringing your way very shortly, including, *squeak* spring launches). It's a new line of skincare from Vichy and what's immediately striking about Essentielles is the packaging. A bit of a departure for the brand alright, this is lovely-looking stuff, and what's inside sounds just as promising.
While I haven't had a go (yet!), the fact that there's rose in there made me sit up and take immediate notice. I love anything to do with roses, me. Rose oil is something I am always happy to lash on for its super-moisturising ways and this range uses rosa gallica extract, a powerful natural antioxidant. Rose Polyphenols is an ingredient rich in hydrating properties, say Vichy, and can help to  soothe and enhance skin's radiance.
Great! So who's the range for? The simple answer is those with sensitive skins. Paraben-free formulations are hypoallergenic and also packed with goodies like moisturising gylcerin and shea butter.
Sound good? The product (and very Beaut.ienomical price) run-down is after the cut, and the line will be arriving in pharmacies from mid-November.
Advertised
Face:
Essentielles Facial Cleanser RRP: €4.90 100ml for all types of skin
Essentielles Face Emulsion RRP: €8.90 50ml for normal to combination skin
Essentielles Face Cream RRP: €8.90 50ml for dry skin
Body:
Essentielles Shower Gel RRP: €5.90 200ml for dry, sensitive skin
Essentielles Body Milk RRP: €6.90 200ml specially formulated for all skin types
Get Beaut.ie Delivered
Stay updated with Beaut.ie newsletters full of the latest happenings at Beaut.ie as well as great offers and things we think you might find interesting .