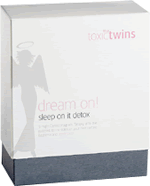 You might have read about these detox patches you stick to the soles of your feet and leave on over night? In the morning, you peel them off, and much like a Biore, gasp in amazement at all the gunk and crap on them. But seriously, could such a thing work? If it does, there's probably no better time than post-Christmas and New Year to find out. I personally feel like a bloated Wine Bag recently, and something has to be done!
The Toxic Twins are a fabulous Irish duo who are single, professional 30-somethings. They would "have to admit to being queens of over indulgence". I like the sound of them already! They're always on the look out for "nifty new ways to keep our youthful looks and feel fabulous", and they were "totally wowed when we discovered the way people in the far east detox". They were so impressed that they now sell these detox patches, and they call them Dream On!.
So how do people in the Far East detox then? Well, in Chinese and Eastern Medicine, it's a belief that toxins go downwards in the body and accumulate in the feet. So it make sense to target a detox in this area. And what else is good about this? No Carol Vorderman style denial and no drinking of disgusting teas!
To use the Dream On! patches, you just slap them on your feet before bed, and remove in the morning. The Twins say that they're the perfect pick me up for burning the candle at both ends, overindulgence, restless sleep/difficulty in getting up and generally feeling less than fabulous.
Advertised
But how do you know they're working? Simple! When you apply them they're clear in colour, and when you remove them, you'll notice a difference. Depending on how bold you've been, the patches will be grey-brown all the way up to green-black. The more you use them, the paler the colour will be - indicating that they're really working. And what do they contain to achieve such amazing results? Things like Agarikus mushroom, Eucalyptus Tree Vine, Bamboo Vinegar, Tourmaline Bio Stone (FIR + Minus Ions), Chitosan, Caururus Chinensis Baill, Houttuynia Cordata, Oak Vinegar and natural starch. All my favourite ingredients!
If you want to try them for yourself, get over to www.thetoxictwins.com where you can place an order. A sample size costs €6 and a 5 night pack costs €28.