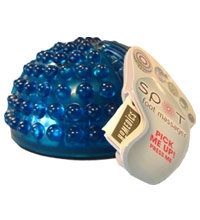 Dunnes always trot out a load of crap products for Christmas that make for extra filler in stockings, and to be fair, some of them can even be quite nice - they did some good Revlon kits and nice makeup bags last year, and this year I've already blogged about the train case they have on offer.
But I was a little thrown by the yoke there on the left. The website refers to it as a Spot Massager. Hmm. Yeh'wha? Do we take this literally and assume it's to massage zits and those oh so politely named areas of congestion? Or, do we have a titter of wit and work it out that they mean it's a doofer to massage areas of the body, in order to find relief?
Advertised
I think it's the latter, of course, but I can imagine some people using it for the former, and being very puzzled when they see zero results. If you can't resist the lure of this jellyfishy gadget, it can be yours now for €12.